Miss Versatility To Yursa Hanover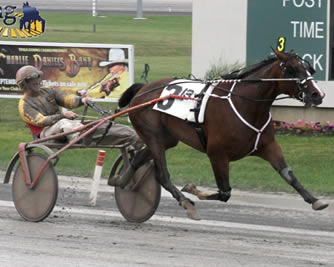 Yursa Hanover and Bruce Ranger captured the $25,000 second leg of the Miss Versatility on Sunday afternoon at Tioga Downs.

With only four trotting mares being entered, Tioga Downs held it as a non-betting race between races three and four on the twelve-race card.
Ranger put Yursa Hanover on the engine through fractions of :28, :57, and 1:26.2 with Windsong Soprano (Randy Waples) sitting the pocket, Buck I St Pat (Matt Kakaley) first-over in third and the early breaker Southwind Wasabi trailing the field after an early miscue.
Buck I St Pat set up for the first-over grind but could not make up any ground over a track listed sloppy and had to settle for third with Windsong Soprano edging her out at the wire for second.
The mile of 1:56 was the second win of the year for Yursa Hanover in her tenth seasonal start for trainer Benoit Baillargeon.