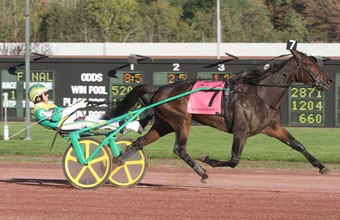 USTA/Mark Hall photo
Buck I St Pat cruised to victory in 1:52.3.
Driven by Tim Tetrick, Buck I St Pat assumed command from Autumn Escapade after an opening quarter in :27.2. She then set a quick but unpressured tempo with the half in :55.1 and three-quarters in 1:24 before finishing the mile in 1:52.3.
The outer flow stalled down the backstretch heading toward the three-quarter mark, and Buck I St Pat opened up by a few lengths. She won by 2-1/2 lengths. Pocket-sitting Autumn Escapade held for second, with Yursa Hanover closing in for third.
Buck I St Pat, an Ohio-bred 7-year-old mare by Jailhouse Jesse out of the Speed In Action mare Name It Something, is owned by Howard Taylor, Edwin Gold, Abraham Basen and Ron Fuller. She won for the seventh time in 17 starts this year, and for the 47th time of her career.
"We hope to see her back next year," co-owner Howard Taylor said after the race. "I want to see her keep racing. I've had good horses, but nothing like her."
Buck I St Pat is closing in on the $2 million mark in career earnings. Trainer Ron Burke indicated he'd like to keep the mare in training.
Tetrick said Buck I St Pat was impacted somewhat by a speed-favoring surface in the Ms Versatility final at the Delaware County Fair in her last start Sept. 23. She finished third behind Autumn Escapade and Windsong Soprano, who finished fifth in the Crown.
"(Autumn Escapade) beat her fair and square last time," Tetrick said. "She was better today. She's old, but she tries her best."
Buck I St Pat has made a serious case for year-end honors, also having won other major races for older trotting mares.