Enough Talk Silences Competition In Titan Cup Prep.
Enough Talk pounced off a pocket trip to take the $40,000 prep for the Titan Cup in 1:51 on Friday night at Meadowlands Racetrack.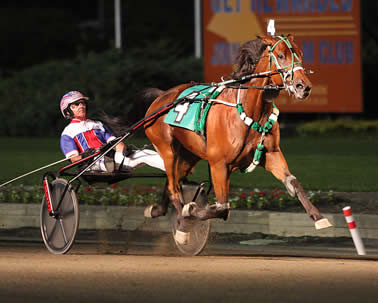 Driver Ron Pierce sent
Enough Talk
straight to the lead before taking a backseat to 2008 O'Brien Award winner Arch Madness (Brian Sears) past a :27.3 opening quarter. Arch Madness posted middle fractions of :55.1 and 1:23.3 before Enough Talk angled out and drew off to a two-length margin. After sitting fourth most of the mile, Lucky Jim (Andy Miller) moved to the outside entering the final turn and edged past Arch Madness for second. Sent off at 15-1, Enough Talk paid $33 to win the 10th race feature.
"My trip went perfectly," Pierce said. "I left out of there and scooted around a couple of them to get to the lead. After the quarter in :27.3, I let Arch Madness go. I just sat on his back, and my horse was trotting beautifully. I wasn't sure anywhere in the mile if I was going to get by Arch Madness until I actually went by him. He's such a good horse, but my horse, he was just awesome. He was perfect, straight as an arrow. Anytime you can get a two-hole trip following the one to beat in the race, and your horse is as good as this horse was, that's all you can ask for."
Enough Talk, trained by Peter Kleinhans, posted his 30th career win and first since returning from a three-race European campaign. The 2008 Older Trotter of the Year in the U.S. raced in the Elitlopp on May 30 in Sweden, but failed to reach the final after hitting his right knee during his elimination race. The seven-year-old son of Enjoy Lavec, who is co-owned by Kleinhans and Jerry Silva, has lifetime earnings of $1.2 million.
All eight starters in the prep race advance to the $200,000 Titan Cup final on Saturday, July 3. The field, in alphabetical order, is: Arch Madness, Buck I St Pat, Corleone Kosmos, Enough Talk, In Focus, Keystone Activator, Lanson and Lucky Jim.