Enough Talk Triumphs In Titan Cup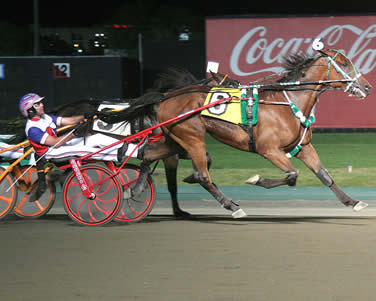 Enough Talk wore down arch rival Lucky Jim in the stretch to win the $235,750 Titan Cup on Saturday evening at the Meadowlands Racetrack.

Enough Talk tracked Lucky Jim down the backstretch and was left right at his wheel as the latter took command from Likeabatoutahell in a :54.4 half-mile split. The two horses raced in tandem until Enough Talk drew clear in the final strides, edging his rival by a half-length in 1:52. Buck I St Pat rallied to finish a length behind them in third. Piloted by Ron Pierce, Enough Talk paid $6 to win the eighth race feature.


"I didn't like my spot at all [outside Lucky Jim]," Pierce said. "I tried that before [racing first up with him] and it didn't work out too good earlier in the year. In the whole race, nothing went my way. I knew Lucky Jim was going to shoot to the front first, and that Arch Madness would be on my tail. Those are the two horses to beat in there, so I was not in a good spot at all. I got up alongside Lucky Jim in the turn. I didn't hear Arch Madness on my back, so I was wondering what happened to him. I kept thinking that Lucky Jim was going to kick in his afterburners and take off and he never did, so we just staggered home in 1:52 and won the race.

"He's gutsy," Pierce continued. "He has a big set of lungs and tries his heart out every week. He's a world record holder and he's beaten the best in the country for the past three to four years now. He's a great horse."

"Enough Talk looked really good alongside of me and I was hoping we'd come out the winner," said Andy Miller, driver of runner-up Lucky Jim. "I knew it would be a race all the way to the wire, but unfortunately [Enough Talk] won. Congratulations to him. My horse raced good and raced him right to the wire."

Enough Talk, trained by Peter Kleinhans, is two-for-two since returning from a three-race European campaign in June. Lifetime, the 2008 Older Trotter of the Year has won 31 of 79 starts and close to $1.4 million. Kleinhans shares ownership of the seven-year-old son of Enjoy Lavec with Jerry Silva.

"I was very surprised he was able to win from first over because he really doesn't like to race that way," Kleinhans said. "He can, but when he's against the best horses, he usually can't sustain his move. This is actually the first time he's been able to beat the best horses that way. At the half, I really didn't even think we'd finish in the top three.

"He's had no problem at all since he came back from Sweden," he continued. "He came off the plane feeling fresh and he's been good ever since. Next he'll go to the Maple Leaf in Canada and then back [to the Meadowlands] for the Nat Ray [August 7]."