Jersey As trotted strong down the center of the track from way back to get the measure of Buck I St Pat to win the $100,000 Perretti Farms Matchmaker for trotting mares on Saturday afternoon (August 6) at the Meadowlands in a career best 1:51.3.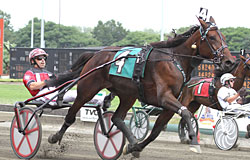 USTA/Mark Hall photo
Jersey AS took the measure of Buck I St Pat to win the Perretti Farms Matchmaker on Saturday afternoon.
Jersey As is owned by ACL Stuteri Ab, is trained by Anette Lorentzon and was driven by George Brennan. The victory gets her a free breeding to a Perretti Farms stallion
.
It was Pembroke Heat Wave (Yannick Gingras) first to the lead at the :28.1 first quarter, but she gave up that lead at the three-eighths to Autumn Escapade (David Miller), who was on the lead by the :55.4 half, followed by Pembroke Heat Wave.
By the second turn, Action-Broadway was on the move on the outside, with Buck I St Pat (Tim Tetrick) in behind her. Autumn Escapade was still on the lead at the 1:24 three-quarters, holding off the approaching Action-Broadway in the outer tier.
When the field turned for home, Buck I St Pat fanned wide and made dead reckoning for the finish line, but Jersey As and Brennan had used Buck I St Pat's cover to take her own shot at the lead and was on the outside of that duo in the middle of the track.
The two trotted down to the wire together with Jersey As winning by a head in 1:51.3. Autumn Escapade was third.
"I've raced this mare a lot and going off the gate I could see Timmy (driving Buck I St Pat) wanted to get in front of me and that was fine," said winning driver George Brennan. "I'll follow Buck I St Pat any day of the week. The cover was great, his horse moved well and got us right up where we had to go. She trotted home strong. The track is super today, firm and you'lll see some good miles today."