The 4-5 favorite Chapter Seven (Tim Tetrick) was the winner of the $250,000 Nat Ray Stake for older trotters on Saturday at the Meadowlands Racetrack in a world record 1:50.1.
The old record for 4-year-olds, 1:50.4, was also held by Chapter Seven.
Chapter Seven is trained by Linda Toscano and owned by Richard Gutnick, Southwind Farm and Jerry and Teresa Silva Stables.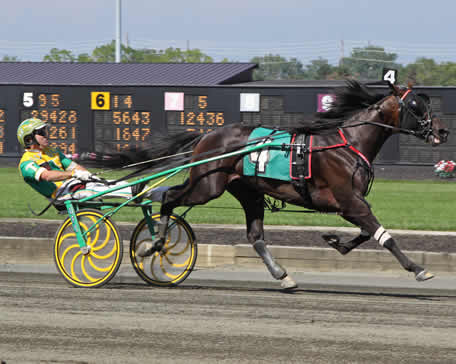 Chapter Seven wins Nat Ray Trot
Foto: Lisa Photo
The first horse to the lead was Daylon Magician (Brian Sears), hitting that mark in :27.4. By the three-eighths-mile mark, Chapter Seven was off the rail from third to clear to the lead, hitting the half in :54.3.
Mister Herbie (Jody Jamieson) was up to challenge just past the half and Chapter Seven and Mister Herbie trotted together through the turn until Chapter Seven pulled away in mid-stretch to win by about two lengths. Mister Herbie was second, Daylon Magician was third.
"It was a horse race all the way," said Tetrick. "I give this little guy credit, he's not very big, but he's got a big motor and he tries all the way to the wire. Hands down, his connections have done a great job with this horse."
Asked if winning this race was redemption for not winning the Hambletonian last year, Tetrick said, "It's revenge today, it's not as much money but he got his revenge. He deserves everything he gets."
"I think we controlled the race and we're on our home track," said Toscano. "I didn't expect him to be as good as he has been right from the get go (this was only his fourth start of the year)."