International Stallion Stake for two-year-old trotting colts and geldings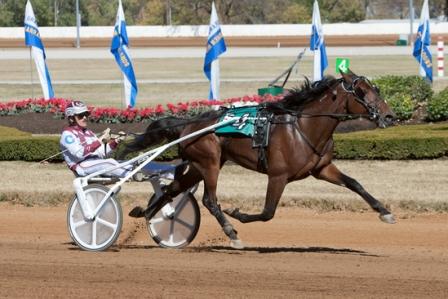 Kashs Cantab pulled off a 21-1 upset for in his $89,300 division thanks in large part to some excellent rating by driver John Campbell.
The Danny Collins-trained son of Cantab Hall-Ocala Kash watched Fort Valley AS (Andy Miller) lay down a :28.3 opening panel before going on the offensive. Campbell brushed Kashs Cantab to the engine and the colt stole away with marshmallowy middle panels of :58 and 1:28 before firing home in :28.3 for the 1:56.3 decision. Spring Goal (Dave Miller) was the next to cross the line, while race favourite Big Rigs (Tim Tetrick) rallied late to grab the show dough.
It was the third win of the season in 10 tries for the homebred, who has banked $132,628 to date for the partnership of Wayne Zollars of Mt. Vernon, OH and Slaughter Racing Stb LLC of Prospect, KY.
Manofmanymissions, fresh off his 1:53.2 World Record performance in the
Breeders Crown at Pocono Downs on October 9, was a front-stepping winner in his $88,300 division for the Miller brothers – trainer Erv and driver Andy.
The son of Yankee Glide-Armbro Vanquish watched Way Back When (Dave Miller) throw down a :29.1 opening panel before brushing Manofmanymissions to the lead. Once on the engine, Manofmanymissions supplied splits of :57.4 and 1:27.1 before firing home in :27.4 en route to the 1:55.1 victory. Blue Porsche (Trevor Ritchie) was next best, and Mr Web Page (Dave Magee) rounded out the top three finishers.
I think he just needs some time to mature," said driver Andy Miller. "He's a real growthy colt and he just needs some time to fill out. He was pretty comfortable today. He coasted around there, and the biggest thing is just to keep his mind on business."
The victory was the fourth in six tries for the youngster, who was a $215,000 purchase from last year's Lexington Selected Yearling Sale. He has stashed away $432,900 for the partnership of Mystical Marker Farms LLC of Indiana, M Biasuzzi Stable of Florida and John Carver of Illinois.
Luckycharm Hanover pulled off a 9-2 upset in the $88,300 opening division for the tandem of driver John Campbell and trainer Jeff Webster.
Campbell hustled the son of Andover Hall-Lady Luck to immediate command from post six, and the colt had the field lined up behind him at the quarter pole in :29.1. Swan In A Million (David Miller) challenged and then overtook Luckycharm Hanover as they passed by the mid-way point in :58.1. Swan In A Million got a bit "pacey" around the final turn and eventually rolled into a break, and as a result the lead position was inherited by Luckycharm Hanover. He tripped the beam at the three-quarter pole in 1:27.4 and easily turned aside race favourite Neal (Brian Sears) in deep stretch en route to the 1:55.3 score. Pegasus Blue Chip (Jody Jamieson) was a distant third.
"Nobody else left, and when the was no speed inside he crossed over rather easily," said driver John Campbell. "He trotted home strong last week; had traffic and had to come three-wide early off the turn. There didn't look like much pace in the race today at the gate, and he's quite versatile at the gate so that's a big edge. My horse trotted strong the last quarter, but I was worried about Neal coming at me because he was very impressive last week. This horse was good last week, too, and he came back with a strong race today."
The victory improved Luckycharm Hanover's rookie record to 2-3-3 in 10 starts, and the lion's share of the purse bumped his bankroll to $170,727. Purchased for $90,000 at the 2009 Harrisburg Yearling Sale, Luckycharm Hanover is owned by Arthur Rudolph and Bernard Owen of Florida along with the Rudolph Stables Inc of New York.