1st Corky  (3, H   Muscles Yankee - Clarice Marie - Balanced Image)
    Registered Owner(s)/Lessee(s):  Christina Takter - NJ, John Fielding - ON, Jim Fielding - ON
    Breeder(s):  Lynn Baker - OH 
2nd Jacks To Open  (3, G   Conway Hall - Jodi`s Jayme - American Winner)
    Registered Owner(s):  Our Horse Cents Stables - NY
    Breeder(s):  Windsong Stable - PA 
3rd Super Classic  (3, G   Muscles Yankee - Classic N Lindy - Dream Vacation)
    Registered Owner(s):  Doug Ackerman Stables Inc - NC
    Breeder(s):  K R Breeding LLC - CT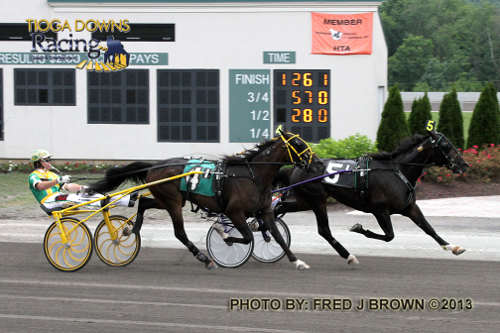 Corky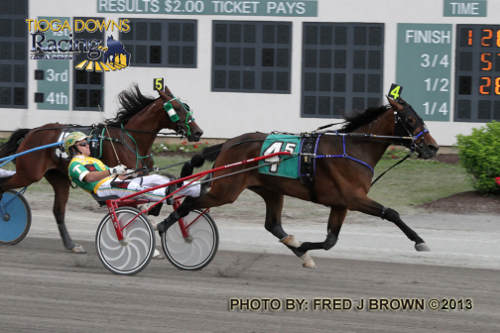 Andie Sophia

Tioga hosts 3-year old Historic Stakes
Tioga Downs hosted all four divisions of Historic Stakes for 3-year olds on Sunday afternoon. Opening up the day in race one, Corky and David Miller wired four other rivals for $59,300 in the 3-year old colt trot division in 1:54.4. It was the first win in five starts for the 3-year old son of Muscles Yankee - Clarice Marie for trainer Jimmy Takter.

In the 3-year old colt pace division, only four took a shot to be crowned champion of the "Jersey Cup", but that honor went to Don't Ya Know and David Miller. The pair got away third in the short field and used a first over move down the backside to take home the lion's share of the $52,800 purse in 1:51.3. Joe Holloway trains the 3-year old son of Western Ideal - Caviart Vegas for Bluestone Farm, Kitty Hawk Stable, and Val D'Or Farms.

Andie Sophia and Tim Tetrick used a two hole trip behind True Day Dream to capture the $57,300 "Coaching Club Trotting Oaks" in a new lifetime best of 1:54.4. Rob Harmon trains the 3-year old daughter of Like A Prayer - Promising Deal for Harmon Racing, Comfortably Numb, and A. Friedland.

In the most well attended stakes event of the afternoon, Give Me An Amen (Andy Miller) captured the $65,900 "Ladyship Stakes" for trainer Linda Toscano in a lifetime best of 1:52.2. The win was the first of the year for the 3-year old daughter of Art Major - Tina Blue Chip who is owned by Stake Your Claim, Martin Sternberg, and Fred Wallace. Trainer Linda Toscano had four of the seven entries in the Ladyship Stakes on Sunday afternoon, all separate betting interests due to separate ownership, and the four Toscano horses finished first through fourth. The Linda Toscano 6-5-4-2 ten cent superfecta returned $12.57.

Heston Blue Chip made his return to the races on Sunday afternoon in the $16,000 open handicap pace. Tim Tetrick guided the 4-year old son of American Ideal - Shot Togo Bluechip through fractions of 27.1, 55.3, and 1:22.4 before Tabago Cays (Brian Sears) pulled in the lane from the two hole to give Heston a run for his money in 1:49.2. The mile established a new track mark for 4-year old pacing stallions at Tioga Downs.