Upset In 2012 Yonkers Trot
Only four challengers. The rail on a half-mile track. Everything looked to be in Googoo Gaagaa's favour heading into the 2012 Yonkers Trot Final. Of course, there's a reason why they just didn't give him the money: anything can happen in a horse race, especially with trotters.

In the $445,594 dash contesting the first leg of trotting's Triple Crown, Jim Morrill hustled Archangel out from the outside five hole and was asked to work for it as Corey Callahan sprinted on with 2-5 shot Googoo Gaagaa. Morrill was able to clear and it appeared that Callahan would try to retake, but opted to sit in through the :27.4 quarter. Somewhere around that far turn, Googoo Gaagaa got steppy in the pocket and went offstride, totally changing the complexion of the race. Callahan reset his trotter but the back of the field was easily 10 lengths ahead of him.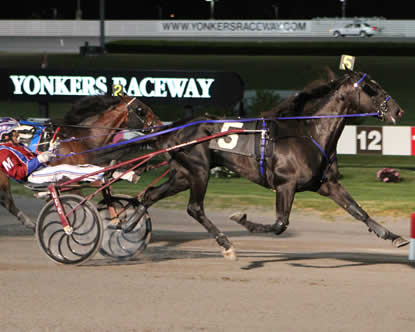 Archangel - Wiring Yonkers Raceway's 58th Yonkers Trot
Mike LIZZI Photo

Archangel continued through the uncontested :56.4 half as Stormin Normand (John Campbell) sat the pocket. Googoo Gaagaa caught the field just past the half and sat fourth heading into the backstretch. Market Share (Jeff Gregory) pulled from third to start the outer flow and provide Googoo Gaagaa some cover as the third panel was reached in 1:25.1. In almost the same spot on the track as before, Googoo Gaagaa went offstride again.

Into the stretch, Morrill asked the pacesetter for more as Stormin Normand dipped to the inside to challenge but Archangel was up for it and repelled that bid for the 1:54.1 local stakes record, all-age track record and three-year-old trotting colt world record score. Market Share was third was Googoo Gaagaa far behind in fourth.

After the races, driver Corey Callahan told Trot Insider that Googoo Gaagaa did in fact make breaks in the same spot on that turn and attributed it to the horse not getting good footing on that location on the track.

"It just wasn't his day."

Callahan continued to note that Googoo Gaagaa came out of the race fine and will look to rebound in next Saturday's Stanley Dancer Memorial Trot at the Meadowlands.

After finishing second in his seasonal debut, Archangel (Credit Winner - Michelles Angel) has been unbeatable, rattling off six straight wins for trainer and co-owner Pete Arrigenna, Alan Hainsworth and Clare Semer.

"I've been fortunate, he's been a sweetheart from Day One. A pleasure to drive," stated Morrill after the Yonkers Trot win, noting that this colt has always shown a ton of ability. "We raced him the Breeders Crown last year, he got tangled up in his hopples and I was loking for ward to racing his this year."

Morrill told Yonkers' Frank Drucker after the race that Archangel's best game isn't on the front end despite how solid he raced.

"He's still half green. We haven't seen the bottom of him yet."

Arrigenna wasn't worried by the style and tempo of the race.

"This horse can take a lot of air. I wasn't worried about the first quarter. When he gets on top with horses pressing, he keeps right on going."

Owner Hainsworth couldn't say enough about the job that Arrigenna has done with Archangel.

"Pete's done a marvelous job with this colt. He had a program with him over the winter and he continues to develop."

Earlier on the card in a non-wagering event, Check Me Out and trainer-driver Ray Schnittker captured the $185,194 Hudson Filly Trot with a 1:56.1 score over Real Babe (Gregory) and Aunt Mel (Brent Holland).