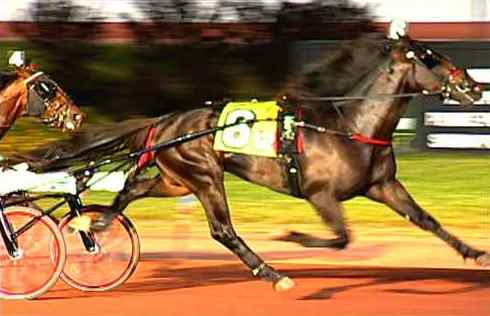 On a night when three track records and two world records had already been established at Mohegan Sun at Pocono Downs, Googoo Gaagaa needed to come up with something special to steal the show. How does the fastest mile ever on a five-eighths mile oval work for you?
Googoo Gaagaa trotted an unreal 1:50.4 mile to win the $500,000 Earl Beal Jr. Memorial Trot for three-year-old colts and geldings on Saturday night. The performance capped off an amazing night of action that saw pacers and trotters scorching the Pocono oval all night long.
Googoo Gaagaa came into the night having set a world record for three-year-old colts on the trot of 1:51.3 in last week's Beal elimination. In the final, the colt, who is bred, owned and trained by Richard Hans of Maryland, made his move on the front stretch to take the lead from Stormin Normand.
Nobody else made a serious threat to the top two, and Stormin Normand made a charge in the stretch, pulling up to about a half-length away. But driver Corey Callahan, who's been aboard for all of Googoo Gaagaa's 2012 victories, urged him home to win by one and a quarter lengths. Little Brown Fox finished a distant third. The fractional times were :27.1, :55.2, and 1:22.3 leading to the amazing winning time of 1:50.4, which shattered the world record for trotters of all ages on a five-eighths mile oval, which was the 1:51 mile posted by Arch Madness at Pocono in 2010.
In the winner's circle, Callahan described Googoo Gaagaa's legendary performance by saying, "He's just a machine. He's a professional in every sense of the word."
Callahan also had encouraging words for Hans, who was unsure how he fit in on the big stage, telling him, "You belong here, and he proved tonight that he does."
Googoo Gaagaa now has an amazing record of 11 wins in 12 races, with his only loss coming earlier this season when he went off-stride at Harrah's Philadelphia. Sired by Cams Rocket, a pacer, the colt pushed his career earnings to $345,945 as he heads to the Yonkers Trot.