Maggie H.
A thoroughbred mare, Sally Sovereign, was mated with Sentinel, a son of Hambletonian 10, and Lady Sentinel was the result. Lady Sentinel later on became the dam of Maggie H. (f.1883), by Homer 1235.

This family started in Lexington, Kentucky when Thornton Moore bred Maggie H. She then changed owner a couple of times before the two brothers Mike and George Bowerman bought Maggie H. These two brothers established a farm which they called Wilton's Place in 1891. Later this farm was sold to W.E.D. Stokes, who renamed it Patchen Wilkes Farm.
The Bowermans bred Maggie H. to Wilton 5982 and in 1891she foaled a filly named Maggie Wilton. Maggie Wilton was a champion of her time but when sold to Patchen Wilkes Farm, she was renamed The Widow. The Widow foaled a Peter the Great-daughter in 1909, Sienna. Sienna was a great broodmare since she passed on genes of speed to her offspring. From the branch of Sienna came Calumet Chuck, Armbro Keepsake, Me Maggie, Firm Tribute, Worldly Woman, Speed In Action, Imperfection, Royal Prestige, Nearly Perfect, Donerail, Running Sea, Viking Kronos and Self Possessed. A pretty remarkable group of horses.

However, this great family doesn't owned it all to Sienna. The Widow had another foal, Maggie Onward (f.1898), by Onward 1411, and from Maggie Onward came Mr. McElwyn, a champion with a story of his own.

Another branch from this family comes from the Maggie. H.-daughter The Gaiety Girl, by Red Wilkes 1749. This branch has it's own champion trotter, Lee Axworthy (f.1911), by Guy Axworthy.

In 1925 Gay Brooke foaled a filly by Chestnut Peter. This filly was named Princess Gay and she in turn had three daughters that helped making the The Gaiety Girl-branch strong. Fionne (f.1933), by Big Noon, Fiesta (f.), by and Gay Sonata (f.), by Phonograph were all successful broodmares and from these three we find horses like Beat the Wheel, Nuclear Kosmos, Crowning Point, Armbro Blush, Baltic Striker, Sierra Kosmos, Dayan and Big John.
Sienna f.1909
Princess Gay f.1925
Peter the Great
Pilot Medium
Happy Medium
Tackey
Santos
Grand Sentinel
Shadow
The Widow
Wilton
George Wilkes
Alley
Maggie H.
Homer
Lady Sentinel
Chestnut Peter
Peter the Great
Pilot Medium
Santos
Dorothy Axworthy
Axworthy
Dorothy T.
Gay Brooke
Justice Brooke
Barongale
Expectation
Gayworthy
Axworthy
The Gaiety Girl
This is the only thoroughbred that ranks as a foundation mare with the harness horse. And it all started with Leland Stanford, who wanted to experiment by crossing thoroughbred mares to his sire Electioneer 125. So in 1879 he bought a carload of mares, whose foals were all trotters-except for one.
One of the thoroughbred mares that Mr. Stanford bought was the Kentucky mare, Esther. She foaled two daughters, sired by Electioneer 125, that has contributed to develop the trotter, Expressive (f.1891) and Mendocita (f.1899).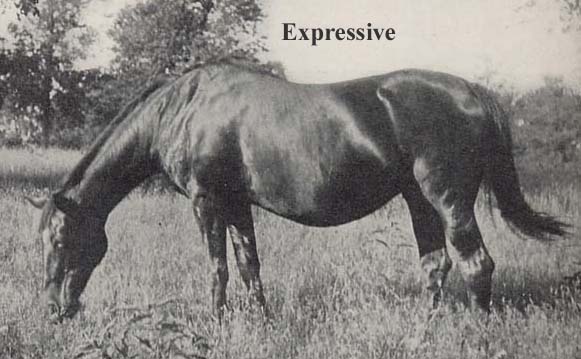 Expressive was a great racing mare and she raced hard and long. When retired she didn't pass on her vitality to her early foals, however, her later foals were better. Her son Atlantic Express (f.1908), by Bellini 8194, sired trotting queen Nedda and another of his daughters foaled Dean Hanover.

The other daughter of Esther, Mendocita, never raced but her daughter Cita Frisco (f.1921), by San Francisco, gave the standardbred an outstanding sire in Volomite (f.1926), by Peter Volo.
Unfortunately, another daughter of Mendocita, the brilliant race mare Mary Putney (f.1912), by San Francisco, died suddenly during racing season and never got to pass on the gene of speed.