Flora Temple was foaled in 1845 and bred by a man named Samuel Welch of Oneida, New York. The sire of Flora Temple was by some claimed to be One Eyed Kentucky Hunter, but in a letter published in Wallace Monthly of February 1878 Mr. Welch stated that her sire was Bogus Hunter. Mr. Welch took the dam of Flora Temple to Bogus Hunter and had her mated with him, but since she failed to conceive, she was sent back. Some meant that since Bogus Hunter was so busy the day she returned One Eyed Kentucky Hunter was used instead.
Flora Temple's dam, Madame Temple foaled about 1840, was a spotted horse, said to be of Arabian blood. She was by a horse known as Terry's Spotted Arabian. The dam of Madame Temple was, according to Mr. John L. Peck, "a bay in color with black points, low set and heavy, had a docked tail and was a very smart animal." Mr. Peck did however not know anything of her origin or breeding. Madame Temple was the first mare to produce two 2:30 trotters, Flora Temple 2.19 3/4 and Pilot Temple (by Pilot Jr. 12) 2.24 1/4.

During the first five years of Flora's life (which was her name then) she passed through the hands of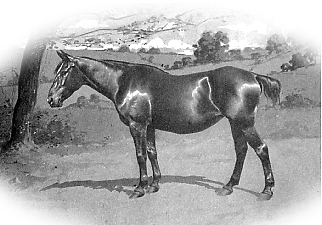 several people. She became so willful and flighty that no one that knew of her wanted to purchase her. Therefor she was sent away to be sold. While passing through the small village of Washington Hollow, a man named Jonathan Vielee, caught sight of her. Mr. Vielee apparently had an eye for good horses and he saw that this little rough-coated bay mare with black man and legs and black bobbed tail was something special. Flora was indeed a fine looking mare with a fine head, a well-set neck, firm shoulders, strong, straight back, powerful forearms, short cannon bones and general display of muscle. Mr. Vielee sold Flora after two weeks to George Perrin, who took her to Long Island and started her. With hard training Flora became "a true stepper with a clean, even, long, low, locomotive stroke", to quote the Spirit of the Times. In 1852 Flora started her carrier and was also renamed Flora Temple. In these days a race could last for many heats and Flora Temple was often racing against the best horses you could find. In spite these hard condition she gained her fame quickly by defeating a lot of her competitors in a good style. In 1859 Flora Temple became the first trotter to trot faster than 2:20. This was at Kalamazoo in Michigan on October 15. But this was not the first time that Flora Temple appeared in the world mile record holder's list, it was her sixth. The first time was when Flora Temple was eight years old in 1853 on August 20. She trotted 2:27 at Utica. Three years later, in 1856 on September 2, she reduced the record to 2.24 1/2 at Union, Long Island. As a fourteen-year-old in 1859 she reduced the record fourth times! First to 2.23 1/2 on August 9, at Eclipse, Long Island. Then to 2:22 on September 10, at Baltimore, to 2.21 1/2 on October 7, at Cincinnati and finally to 2.19 3/4 on October 15.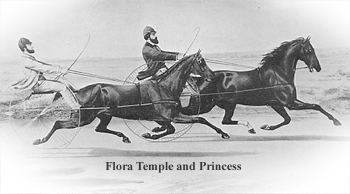 When Flora Temple was sixteen years old she was retired. In her carrier she had trotted 103 races and she had won 86 times. Her last home was the Erdenheim Stud. of Aristides Welch near Philadelphia. Here she produced three foals:
Kitty Temple, a brown filly by Rysdyk in 1868
Prince Imperial, a brown colt by William Welch in 1869
The Queen's Daughter, a brown filly by imp. Leamington in 1871
before she died in 1877 on December 21.