Delaware, OH --- Buck I St Pat brushed to the lead past the opening quarter and then went on to a 1:55.2 victory in the $111,000 Ms Versatility Series final on Thursday (Sept. 24) at the Delaware, Ohio Fair.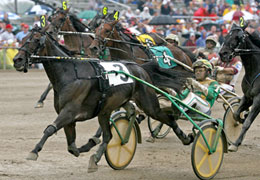 Buck I St Pat trotted to a 1:55.2 victory in the $111,000 Ms Versatility Series. USTA/Mark Hall photo
Tim Tetrick was in the bike as the 6-year-old Jailhouse Jesse-Name It Something mare set a national season's record for an older trotting mare on a half-mile track. The Ron Burke trainee posted her eighth win of the year and saw her bankroll climb to $353,825 this year and $1,354,852 lifetime.
Autumn Escapade (David Miller) went to the front from post two and was followed by Up Front Hotsey and Buck I St Pat to the opening quarter in :28.4. Tetrick had Buck I St Pat out and rolling past the quarter pole and she set subsequent fractions of :57.4, 1:26.4 and 1:55.2.
Buck I St Pat was never threatened down the lane and defeated Classic Lane with Autumn Escapade third.
"The only question we had," said trainer Ron Burke, "is she is not always the best on the front but Tim's decision to go when he did, we agreed with because if he had sat there he could have got buried. Once she got to the head of the stretch and we could see her just powering out we were like 'here we go, it's all good.'
"She's a filly that's not supposed to be what she is with her breeding and everything but her heart is just set on racing and it's just such a pleasure to be around her.
"Especially for a trotter, she's not a big monstrous trotter. It's all in her heart and she just wants to win and wants to go."
"I love her," said Howard Taylor, who co-owns Buck I St Pat with Edwin Gold, Abraham Basen and Ron Fuller. "I just wish she would have behaved over in Sweden (in the Elitlopp) so she could have showed the world what she is."