East Rutherford, NJ --- The Lindy Reserve (Tim Tetrick) crossed the wire second behind Pastor Stephen (Yannick Gingras), but was placed first when that colt was placed sixth for interference in the backstretch in the $500,000 Peter Haughton Memorial for 2-year-old trotting colts on Saturday afternoon (August 7) at the Meadowlands.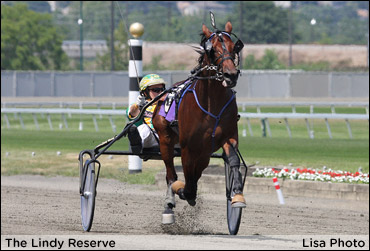 There was a recall in the first attempt to get the race off, charged to Evil Urges, who then made another break on the second try at getting the race off, taking him out of contention early.
The field trotted away from the gate and the first quarter saw Pastor Stephen on the lead to the :27.3 first quarter. Leader Of The Gang (Ron Pierce) rushed up after Pastor Stephen, who led the field to the :56.3 half. Leader Of The Gang cleared to the front and was still on the lead at the 1:25.3 three-quarters.
In the homestretch, The Lindy Reserve (Tetrick) was on the move from sixth place, picking up horses while Neal (John Campbell), Pastor Stephen and Leader Of The Gang were slugging it out for the lead. The Lindy Reserve got up to be second, three-quarters of a length behind Pastor Stephen, before the placing.
Asked what happened in the backstretch to cause the interference, Tetrick said, "There was some confusion up there, everyone was riding tight. Yannick's horse (Pastor Stephen) threw in a few steps and got jammed up a little bit. I was back there last, I was just hanging out, waiting for the end of the mile. There was enough speed and my horse responded late. I was still last turning for home, and I knew I hadn't used my horse. I thought he was going to give me a good run and he really did. He gave me a big last quarter and got the job done for me."
"It feels great," said winning trainer Frank Antonacci. "It's bittersweet, not having anything in the Hambletonian. I had to stay out of the barn, this is our Hambletonian and I'm glad he got it done.
"I drove him out here myself and he won by open lengths (on July 22 in the Kindergarten Series). At that point I knew he was a real horse, we just had to take care of him. When you have the nine hole with 2-year-olds you never know, we want to take care of him, he's got a long career ahead of him. It worked out for him today and it's a great feeling."