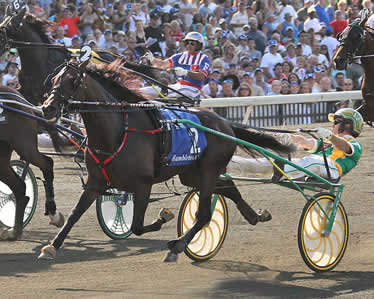 Market Share
Foto: Lisa photo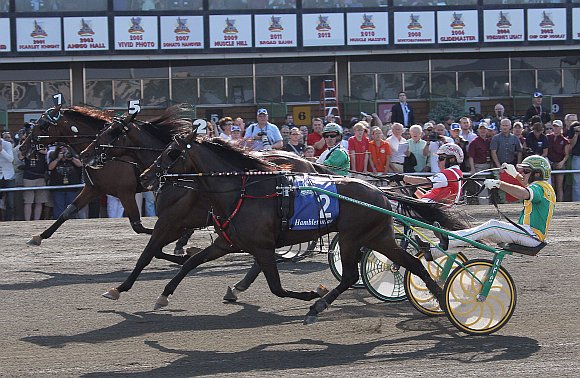 Market Share, My MVP and Guccio
Foto: Lisa Photo

Market Share Takes The 2012 Hambletonian
Trainer Linda Toscano's dream harness racing day came true as trotter Market Share and driver Tim Tetrick survived a game first up bid and a late closing rush to capture the $1.5 million Hambletonian at the Meadowlands Racetrack in East Rutherford, N.J.

The early contenders for the lead came from the outside of the gate as Gym Tan Laundry (George Brennan) and Stormin Normand (Dave Palone) left for position along with Archangel (Jim Morrill, Jr.). Archangel looped to the front clearing to the front just after the :27.2 opening panel. Ron Pierce made his move with favoured Uncle Peter and he made the front just before the :54.3 half-mile split.

As Jody Jamieson made his move to the outside with Knowns Nothing, he flushed out Market Share and Tetrick from fourth to begin the first-over bid. Knows Nothing was then second over on the helmet of Tetrick and Market Share, who challenged Uncle Peter through three-quarters in 1:22.3.

In the stretch, Tetrick and Market Share accelerated past the pacesetter. Knows Nothing flattened out off that second over trip, but the backfield was in full motion. Jimmy Takter unleashed Guccio and Mike LaChance had a ton of trot with My MVP. As Tetrick begged for the wire and asked Market Share for all he could offer, Guccio and My MVP closed with every stride. On the wire, it was Market Share holding on by a long neck over Guccio and My MVP in 1:52.1.

Market Share (Revenue S - Classical Flirt) is owned by Richard Gutnick of Blue Bell, PA., and owners who just bought into the horse this week - T L P Stable of Kearny. N.J. and William Augustine of Hammonton, NJ.

"It's a dream come true," said Gutnick. "I thought it was going to happen last year. Two months ago I thought there was no way, it was a 100-1 shot to even enter him.

"Coming down to the wire I kept saying 'hold on, hold on!' I didn't even want to look."

Gutnick had no reservations on selling part of his trotter just days away from harness racing's richest prize.

"On the First they had called and we did a deal within a day that I figured was a little bit of insurance and I figured having 75 percent is fine."

Tom Pontone was part of the Muscle Hill ownership that won the 2009 Hambletonian.

"I looked at the horse and I knew he'd be a good horse for this race, but I thought he'd be a great horse the rest of the year and next year," said Pontone. "Every race I saw him when I went back and he went forward in every race and I said this is a great horse and I want to buy in. I never thought we'd win the Hambletonian today. I thought we'd do well, but I thought we'd make money with him this year and next year.

"Richard and I now are going to own horses for a long, long time I hope."

The victory marked the first win for Toscano in the Hambletonian, and the first win for a female trainer in Hambletonian history.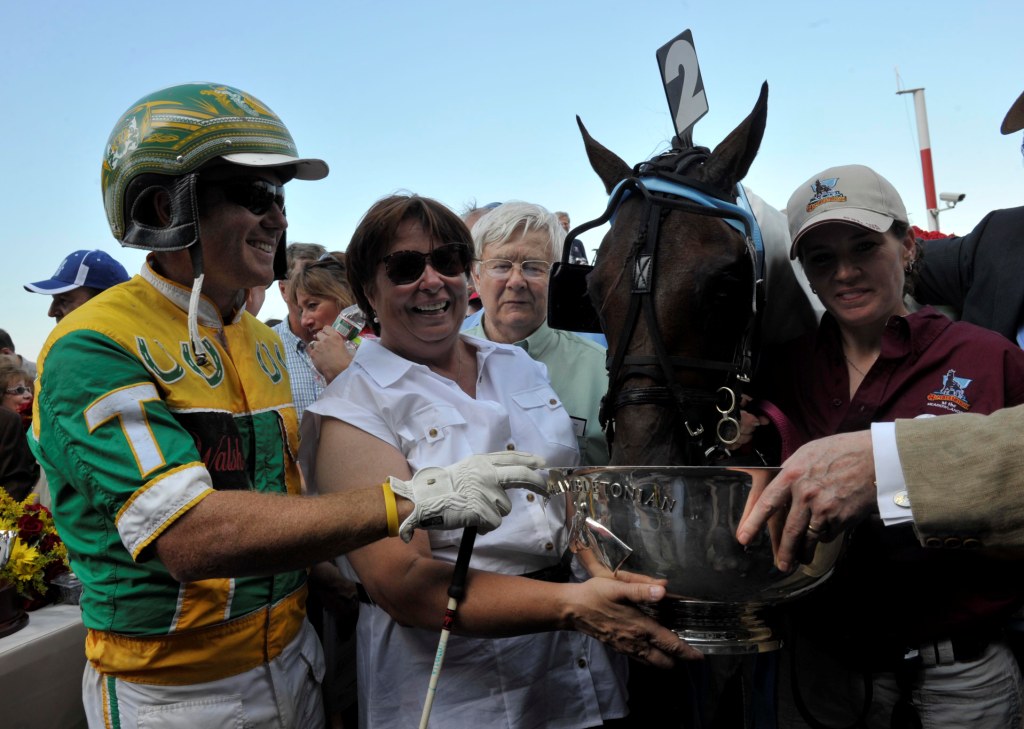 Tim Tetrick, trainer Linda Toscano and Market Share after victory in Hambletonian 2012. www.stalltz.se.
"It's unbelievable. I refused to let myself even dream this far. It's just unbelievable," noted Toscano. "Timmy and I had talked about it and we took care of him a lot of the races and he said we're going to have to race him today and I said this is right time to race him."
Down the stretch, Toscano wasn't sure if her horse would or could hold on.
"We wanted to get there. It's funny what goes through your head. I kept thinking I wish my dad were alive because it was my dad who started this whole thing for me. It's a dream come true."
Among all the accolades and awards for driving phenom Tim Tetrick, the win was also his first. Tetrick experienced the highs and lows of racing after not winning the Oaks with Check Me Out 30 minutes prior.
"I feel bad for the connections of Check Me Out but this is a dream come true. I'm just happy to be part of it," stated Tetrick. "Linda was tired of me trying to let the race come to me so I said well we'll fix that. And it worked. She did a phenomenal job, the whole crew and I'm just happy to be part of it."
Tetrick was confident that his horse could overtake favoured Uncle Peter.
"I felt really comfortable at that point. I was following Ronnie and Ronnie had already worked on his colt a little bit and he got stung pretty good down the backside so my horse rolled right up to his wheel and I felt really confident and when I called on him he really went right by him and he jumped two or three on him and I think that made the race.
"I knew they were all going to come, the stampede was going to come, but thank God the wire got there that's all I can say. It's a dream come true. All my people back in Illinois, my mom and dad, I'm sure they are watching. I'm just happy to be here."
Favoured Uncle Peter finished seventh but was placed eighth for switching to the pace in the stretch. Canadian hopefuls Knows Nothing finished fifth and Prestidigitator finished eighth placed seventh.
"It was disappointing. We got the trip we wanted," trainer Jeff Gillis said after the race. "Jody said he was a little too aggressive behind the gate, a little too grabby. We expected them to do better than that. If you would've told me they were gonna go in :52 and we'd be second over, I would've thought we would've been the winner. It didn't work out. It's Linda's day.
"I'm confident that we'll live to fight another day. The Canadian Trotting Classic isn't that far off, but right now it hurts. I don't know how many times you can expect to have a legit Hambletonian contender in your lifetime. We just let one slip away."