Last
Horse                       HV PP    1/4     1/2     3/4     Stretch  Finish     Time    1/4  Driver           Odds   Trainer
5   Musical Rhythm=(L)          5    1/1H    1/1T    1/1     1/2      1/2H       1:52.3  27.2 M Baillargeon    2.05*  B Baillargeon
1   Crescent Fashion            1    4/4T    4@/4    4@/3Q   4/3H     2/2H       1:53    27.1 S Zeron          4.85   A Svanstedt
4   Honor And Serve             4    3/3Q    3@/2Q   2@/1    2/2      3/3        1:53.1  27.4 A Svanstedt      8.15   A Svanstedt
10  Crazshana=(L)               10   10@/12T 9@/10H  10@/10H 8/7T     4/3Q       1:53.1  26   Ja Macdonald    21.90   J Bamond Jr
6   Canepa Hanover              6    8/10T   7@/8T   8@/7T   9/8      5/4H       1:53.2  26.3 J Takter         4.15   J Takter
2   Whataworkout=               2    2/1H    2/1T    3/2Q    3/3Q     6/4T       1:53.3  28   B Miller        63.40   F Antonacci
3   Rubber Duck=(L)             3    7/8Q    6/6Q    5/4Q    5/5H     7/5        1:53.3  27.3 J Moiseyev      90.90   J Walker
9   Lookslikeachpndale          9    11/14H  10/11T  9/9     10/9     8/6Q       1:53.4  26.4 S Filion        37.55   L Blais
7   Centurion Atm(L)            7    9/12H   8/9T    7/7Q    7/7T     9/6H       1:53.4  27.1 Ri Zeron        78.10   A Svanstedt
11  Wings Of Royalty=           11   5/6T    5@/5T   6@/5H   6/6T     10/6T      1:54    27.4 J Jamieson      19.80   G Ducharme
8   Crazy Wow                   8    X6@X/7H 11/36   11/34   11/38    11/32      1:59    27   M Kakaley        2.95   R Burke
Time: 27.2, 57, 1:25.1, 1:52.3 (Temperature: 20, Condition: FAST, Variant: 0)
Judges List: Crazy Wow-BREAKS
1st  Musical Rhythm      (b,h,4 - Cantab Hall-Musical Victory-Valley Victory)
                         Owner: Santo Vena,Brampton-Nunzio Vena,Bolton,ON-Claude Hamel,Ayer'S Cliff,QC-Benoit O Baillargeon,Guelph,ON
2nd  Crescent Fashion    (b,h,4 - Muscle Hill-Fashion Feline-Broadway Hall)
                         Owner: Order BY Stable,Boras,SD-Howard A Taylor,Philadelphia,PA-Johan Vonderlancken,Stockholm,SWD
3rd  Honor And Serve     (b,h,4 - Donato Hanover-Honorable Daughter-Malabar Man)
                         Owner: Howard A Taylor,Philadelphia,PA-Order BY Stable,Boras,SD-Judith S Taylor,Bala Cynwyd,PA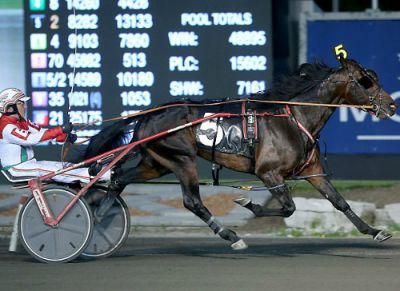 New Image Media

Musical Rhythm called all the shots and scored a 1:52.3 victory

Cup Eligibles Star In Last Local Prep
Three-year-old pacing colts Betting Line and Lyons Snyder delivered as the favourites in a pair of $75,000 Somebeachsomewhere Stakes featuring 17 North America Cup eligibles on an action-packed Saturday (June 4) program at Mohawk Racetrack.

The Somebeachsomewhere Stakes is the final local prep race before the Pepsi North America Cup. Both division winners are among the Cup contenders that will be headed to next Saturday's eliminations for the prestigious Glamour Boy event on June 18.

Betting Line prevailed as the 2-5 favourite in the first division for driver Jonathan Drury and trainer Casie Coleman.

Flaherty (Trevor Henry) followed the gate away from post four to establish a quick three-length lead off the gate, but American Passport (Scott Zeron) was on the move from third after the :27.1 first quarter with Betting Line tracking his cover.

After American Passport touched down on the front, Betting Line swept by at the :55.2 half-mile mark. He then raced by three-quarters in 1:23.3 and turned for home with American Passport his closest rival and gaining ground in deep stretch. However, Betting Line held off American Passport by half a length for the victory in 1:50.1. Michaels Victory (Sylvain Filion) closed off cover to finish third, nearly four lengths behind.

Last year, Betting Line won half of his 12 starts while banking $540,422 and earning an O'Brien Award nomination for owners West Wins Stable, Christine Calhoun, and Mac Nichol. He started his sophomore campaign with top-two finishes in a pair of conditioned events at Mohawk, including a career-best 1:49.4 victory in his last start on May 21.

While coming away with the Somebeachsomewhere Stakes victory, Coleman noted that there are some improvements to make with the Bettors Delight-Heathers Western colt.

"I'm never disappointed with a win, but he was a bit worked up in the paddock tonight. I actually had to move his paddock stall down to the end of the paddock and he took a little bit of his race out of himself before we went to the gate tonight," Coleman explained in a post-race interview. "He won, so obviously I'm happy with him, but he's a little better than what he was tonight and we'll get that rectified for next week.

"He's coming to the N.A. Cup perfect," she added. "I couldn't be any happier with the schedule coming into the N.A. Cup. I just have to fix a couple of paddock situations and I might put his shoes back the way I used to have them. Normally, you would think you would want aluminum shoes, but I think I might go back to the steel. He wore them last year up front and this track is known to grip it better when you wear aluminums and I just think I made a bad decision. I just made a bonehead move maybe and I probably got lucky that he got the win and I got through it without looking too bad."

In the second division, the slight 3-2 favourite Lyons Snyder held off the season-debuting O'Brien Award winner Control The Moment in the fastest mile so far this year for three-year-old male pacers.

Sylvain Filion drove the Well Said-Armbro Cachet colt to the 1:49 victory for trainer Mark Silva and owners Jeffrey Snyder and Geoffrey Lyons Mound.

After Major Hill (Jody Jamieson) fired off a :25.4 first quarter leaving from post six, Lyons Snyder looped the early leader. He then led the way through middle splits of :54.1 and 1:22.1 and held off Control The Moment (Randy Waples), who rallied off the cover of Highlandbeachycove (Scott Zeron) and came up just a half-length short in the 1:49 mile. Nocturnal Bluechip (Paul MacDonell) finished over two lengths back in third off a three-hole trip.

After going winless in five starts as a freshman, Lyons Snyder is now four-for-six and has won back-to-back races in sub-1:50 fashion.

"He's trained good all year," said Silva, who got the colt late in the 2015 season. "He was sore last year and we gave him four months off and he's come back great this year.

"He still runs out a little. We got a little more work to do with him, but if I straighten that out, he's a serious horse."

Three-year-old pacing fillies also faced off on Saturday night in their season-opening Ontario Sires Stakes (OSS) Gold event that was comprised of two $105,000 divisions.

Cracklin Rosie was sent postward as the longest shot on the board in the first division, but defied her odds and pulled off a 76-1 stunner in rein to Phil Hudon for trainer James Ciaran Morrison.

The race set up for an upset when 1-2 favourite Goodwill Hanover (Chris Christoforou), fresh off her SBOA Stakes victory last weekend, broke stride behind the gate and 9-2 Thatsoveryverynice (Sylvain Filion) jumped it off in the first turn.

Cracklin Rosie only had the breakers beat early on in the eight-horse field, sitting off the hot early pace as four fillies fired off the gate. Insider Lady Marina (Jack Moiseyev) established the lead at a price of :25.3 for the opening quarter, with the prompting Party In Rome (Trevor Henry) eventually settling into the pocket.

With the pace beginning to slow during the second quarter, 2-1 second choice Lay Lady Lay (Doug McNair) advanced first over from fifth and took over the lead at the half in :55.4. Meanwhile, Cracklin Rosie began to advance gapping the cover, but came charging up to confront the new leader with three-eighths of a mile to go.

Lay Lady Lay and Cracklin Rosie battled on top past three-quarters in 1:24.2 with the longshot filly eventually gaining the upper hand down the stretch to score by half a length in a career-best clocking of 1:51.2. Southwind Tango (Steve Condren) came on for third, finishing two and a quarter lengths behind.

"She was a work in progress, but to be honest I thought she would be good enough to get a piece of it and it just worked out," said co-owner Aaron Waxman, who recently purchased the Badlands Hanover-Honeys Bud Lite filly for the OSS Gold program privately with partners Alan Alber, Frank Cirillo, and Terri Lynn McNair. "A couple of the favourites had some issues getting out of there and it worked to her benefit and she raced fantastic."

Scoring the first OSS victory of her career, Cracklin Rosie paid a staggering $154.40 for a $2 win ticket.

In the second division, O'Brien Award winner L A Delight, who was the beaten favourite in the SBOA Stakes, rebounded from her first loss since the start of her career with a 1:51.4 victory for trainer Bob McIntosh.

"Thank God, she's right back to her A game tonight. She was really good tonight," said winning driver Randy Waples after the race. "That's what a true champion does. The paper champions, they won't bounce back. The real, true champions, they can take a beating and come back the next week and that's what she did. She was just on her A game, but I've got to give Bob and his crew all the credit for that."

L A Delight, the 2-1 second choice, left from post seven and worked her way to the lead by the quarter pole in :26.4, with the 2-5 favoured Mayhem Seelster (Jack Moiseyev) following her cover and eventually clearing into the backstretch. However, L A Delight retook the lead by the :55.4 half-mile mark and raced by three-quarters in 1:24.3. She kept clear of first over Bad As Leader (Trevor Henry) into the stretch and prevailed by one length in 1:51.4. Bad A Leader edged out a locked-in Mayhem Seelster for the second-place honours.

With the victory, last year's Super Final champion L A Delight kept her perfect OSS record in tact and is now six-for-six in the provincial program. The homebred Bettors Delight-West Of L A filly is owned by Robert McIntosh Stables Inc., C S X Stables, and Al McIntosh Holdings Inc.

Mohawk also hosted a leg of the Graduate Series for four-year-old trotters and pacers on Saturday night.

Back on his home turf, Musical Rhythm dominated the $98,250 trotting division for the Baillargeon brothers as the 2-1 favourite.

Musical Rhythm left from the middle of the gate with Crazy Wow (Matt Kakaley) trotting up to challenge from post eight early before breaking stride on the turn, which driver Mario Baillargeon noted "changed the whole race" from that point forward.

After getting the lead easily in a :27.2 first quarter, Musical Rhythm stole a second quarter breather to the half in :57. From there, Honor And Serve, one of three starters from the Ake Svanstedt stable with his trainer in the bike, applied first over pressure to three-quarters in 1:25.1, but Musical Rhythm opened up down the lane to win by two and a half lengths in 1:52.3. Crescent Fashion (Scott Zeron) closed off cover to finish second ahead of Honor And Serve.

"He's so handy and he had a great post. I thought mid-gate was a great post in that field tonight," said Baillargeon in a post-race interview. "And lucky enough, the eight horse [Crazy Wow] made a break in that first turn and we got a cheap second quarter, and those good horses, that's all they need -- a cheap quarter in them and it takes a real good one to beat them. I knew at the half he was going to be hard to beat."

Trainer Ben Baillargeon shares ownership of the Cantab Hall-Musical Victory four-year-old, who is now 10-for-11 on the year, with Santo Vena, Nunzio Vena, and Claude Hamel.

Freaky Feet Pete made his Mohawk debut a winning one in the matching $98,250 split for pacers with former WEG regular Scott Zeron catch-driving.

The overwhelming favourite, paying 10 cents on the dollar, took the lead at the 26-second first quarter mark from the hard-leaving Rockin In Heaven (Trevor Henry) and cruised through fractions of :54.3 and 1:22.4 without any challenges. Rockin In Heaven tipped out in the stretch, but couldn't catch Freaky Feet Pete, who was victorious in 1:49.1 by one and a quarter lengths. Dudes The Man (Jody Jamieson) finished third.

A millionaire son of Rockin Image and Skyway Lori, the Indiana invader is trained by Larry Rheinheimer and owned by Mary Jo and Marty Rheinheimer.

The final preliminary leg of the Graduate Series will be held next Sunday, June 12 at Tioga Downs, with the series finals set for July 9 at Meadowlands Racetrack.

In Mohawk's weekly $34,000 Preferred Pace, 3-5 favourite Shamballa vaulted off the cover of Canada's reigning Horse of the Year State Treasurer (Chris Christoforou) and out-sprinted him to the wire for the half-length victory in 1:49.2. Nirvana Seelster (Phil Hudon) finished third at the pylons off a pocket trip, closing inside of the fading Reverend Hanover (Jonathan Drury), who had led through panels of :26, :54.2 and 1:22.

Rick Zeron trains, drives and co-owns Shamballa, who was a 1:48.1 winner last time out on May 21 at Mohawk. Tao Racing LLC, Howard Taylor, and Cool Cat Racing Inc. are also partners on the six-year-old Somebeachsomewhere-Bolero Takara gelding.