Race 4
-- Pace, purse $427,000 (EX, P3, SU, TR)
SHES A GREAT LADY - FINAL - 2 YEAR OLD FILLIES.
                                                                                         Last
Horse                       HV PP    1/4     1/2     3/4     Stretch  Finish     Time    1/4  Driver           Odds   Trainer


4   Idyllic Beach               4    3@/2Q   1/1T    1/1Q    1/1Q     1/H        1:50.3  27.1 Y Gingras        0.40*  J Takter


6   Agent Q                     6    4/4H    4@/4Q   2@/1Q   2/1Q     2/H        1:50.3  27   D Miller         3.75   A Lambert
1   Candlelight Dinner          1    5/6T    5@/6    4@/3Q   3/5      3/5H       1:51.3  27.3 M Kakaley        8.00   C Coleman
5   Everyones Watching          5    6/8H    6/6T    7/6Q    6/7T     4/5T       1:51.4  27.1 J Jamieson      95.90   T Alagna
7   Awash                       7    8/10H   8/9Q    9/8     9/10Q    5/8Q       1:52.1  27.1 Ph Hudon       121.25   T Alagna
10  Happy Hannah                10   7@/10   7@/8    6@/5H   5/7T     6/8H       1:52.1  27.4 Ra Waples       29.25   M Steacy
8   Obvious Blue Chip           8    9/12H   9@/9T   8@/7    8/8T     7/8T       1:52.2  27.3 Ja Macdonald   105.15   M Steacy
9   Blameitonthenight           9    10/14T  10/11Q  10@/8T  10/10T   8/9Q       1:52.2  27.1 J Drury        137.65   T Alagna
2   Thats The Ticket            2    2/1T    3/3T    5/4Q    7/8      9/10H      1:52.3  28.2 S Filion        15.95   C Ryder
3   World Apart                 3    1/1T    2/1T    3/2     4/6Q     10/12      1:53    29.1 Ti Tetrick      19.55   L Toscano

Time: 27, 55.3, 1:23.2, 1:50.3 (Temperature: 20, Condition: FAST, Variant: 0)


1st  Idyllic Beach       (b,f,2 - Somebeachsomewhere-Idyllic-American Ideal)


                         

Owner: Christina Takter,East Windsor,NJ-John D Fielding,Toronto,ON-Brixton Medical Inc,Matawan,NJ-Marvin Katz,Toronto,ON


2nd  Agent Q             (b,f,2 - Western Terror-Teenage Paige-Real Desire)
                         Owner: Martin Scharf,Lawrence,NY-William P Rochetti Jr-Tanya R Rochetti,Cherry Hill,NJ-Robert K Muscara,Ivyland,PA
3rd  Candlelight Dinner  (b,f,2 - American Ideal-Time N Again-Jate Lobell)
                         Owner: Mac T Nichol,Burlington,ON-Let It Ride Stables Inc,Boca Raton,FL-Howard A Taylor,Philadelphia,PA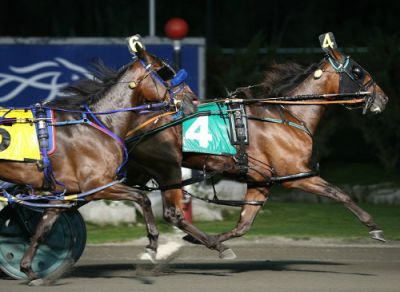 New Image Media

Idyllic Beach is the daughter of the great Somebeachsomewhere and Idyllic, who captured the Shes A Great Lady in 2010.

Like Mother, Like Daughter
Two-year-old pacing filly Idyllic Beach followed in the hoofprints of her mother Idyllic in winning the $427,000 Shes A Great Lady Stakes.

Driver Yannick Gingras sent the 2-5 favoured elimination winner Idyllic Beach from third to first after the 27-second opening quarter and carved out middle splits of :55.3 and 1:23.2 while Agent Q (David Miller) advanced first over. However, Idyllic Beach kept clear of Agent Q into the stretch and held off that rival at the wire by a half-length in 1:50.3, coming within two-fifths of a second of the world record. Candlelight Dinner (Matt Kakaley) followed Agent Q's cover and finished third.

"I really didn't know going to the gate what I was going to do," said Gingras of his strategy. "The inside three left pretty hard so that made my job easy and that took the outside speed out of the race. At that point, at the eighth pole, I knew I'd be cutting them off."

The Jimmy Takter-trained daughter of Somebeachsomewhere and 2010 Shes A Great Lady champion Idyllic was purchased for $100,000 at the Lexington Selected Yearling Sale and is owned by Takter's wife Christina Takter of East Windsor, New Jersey, along with Toronto's Marvin Katz and John Fielding, and the New Jersey-based Brixton Medical Inc.

"Jimmy knew she was a good filly all the way down," noted Katz. "Every time I'd speak to him in the wintertime, he said this is a top filly. He was confident in her abilities. Just when she started to qualify, he had to get her settled a little bit -- she got a little bit anxious early on -- but he was very confident in her abilities most of the way down."

Idyllic Beach is off to a fabulous start to her racing career with five wins and one second-place finish from six starts for earnings of $316,262.

"It's fantastic," said Katz of the filly's Shes A Great Lady Stakes victory. "It's very difficult to win these types of big races. I know how difficult it is and so this is a real thrill for us.

"I'm always nervous, especially in these big races. No matter how long you've done this, no matter how many times you've done it, you get nervous. You know you need to have every thing go right for you and everything to work it's way out, but she was terrific, she was absolutely terrific."