1st Just Jess  (2, M   Jailhouse Jesse - Glide Sally Glide - Yankee Glide)
    Registered Owner(s)/Lessee(s):  Alan White - IN, Julie Rideout - IN
    Breeder(s):  Doug Rideout - IN, Alan White - IN 
2nd Desert Sunset  (2, M   Swan For All - Cantab Me - Cantab Hall)
    Registered Owner(s):  Jerry Logan - OK, Helen Logan - OK, Kristin Shetler - IN, Dan Shetler - IN
    Breeder(s):  Steven Mast - IN 
3rd Queen Of Justice  (2, M   Justice Hall - Queen Of Lavec - Master Lavec)
    Registered Owner(s):  Our Little Stable - OH, Steve Carter - OH
    Breeder(s):  Midland Acres Inc - OH 
Linscott Photography

Homicide Hunter scored decisively in his split of the stakes action to remain undefeated in 2015.

Hoosier champions night
Hoosier Park Racing & Casino played host to a stakes-filled card on Friday, July 3, and the night was ruled by favorites and Hoosier Park's leading driver, Trace Tetrick, who had four winners on the card. The 14-race harness racing card featured the $75,000 Indiana Sires Stakes final for the two and three-year-old divisions. Eight Indiana Sires Stakes champions were crowned and just as Tetrick drove four of the eight winners, favorites prevailed in all but one division.

Tetrick scored his first victory of the night in the opening round of the stakes action with Ginger Shark in the $75,000 Indiana Sires Stakes Final for two-year-old pacing fillies. Scoring her second consecutive victory from two lifetime starts, Ginger Shark made her winning move down the backside and was never contested to score in a lifetime best of 1:53.

"That was a good experience for her last week," Tetrick said. "I wasn't sure how she would be on the front tonight but Brian (Brown) was really high on the filly and she's been really great so far."

"She's had great manners and she's got a great way of going," he continued. "She's very versatile and just an all-around nice filly."

Trained by Brian Brown, Ginger Shark has now earned $47,500 from two career outings. The daughter of Shadyshark Hanover-Miss AJ Ponda is owned by Emerald Highlands Farm.

Just two races later, Tetrick found the winner's circle once more this time with Justice As in the $75,000 Indiana Sires Stakes final for two-year-old trotting colts and geldings. Justice As was unhurried in the early stages of the race but found late racing room in the stretch to score in 1:57.3, a new lifetime best.

"He did everything right training down," Trainer Anette Lorentzon noted after the race. "He didn't really show me that he was something special but he did everything right."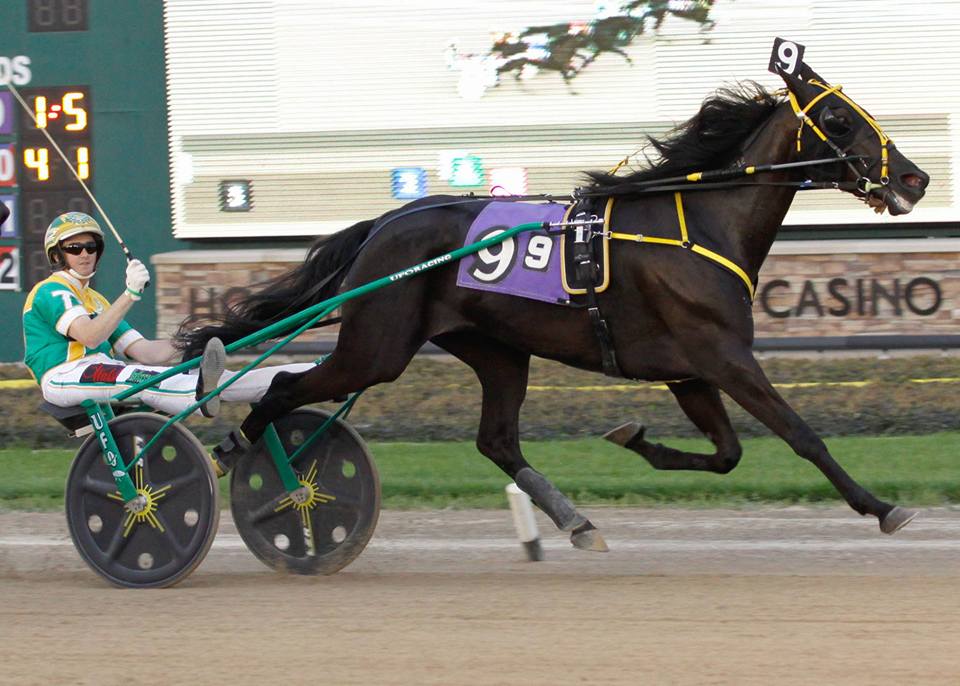 Linscott Photography

Churita.

"It's early," she continued. "Trace does such a great job with my horses, I just told him (Trace) to teach him how to race and we'll go from there."

The gelded son of Justice Hall-Pandora remains undefeated in two lifetime starts. Owned by Acl Stuteri, Justice As has now bankrolled $47,500 for his connections.

Fresh of a decisive win in the Indiana Sires Stakes elimination last week by six and a half lengths, Nora Rockwell and Jason Dillander turned in another dominant performance to take home top honors in the $75,000 Indiana Sires Stakes Final for three-year-old pacing fillies. Scoring in a lifetime best of 1:51.1, Nora Rockwell outlasted all challenges from the rest of the field to score her sixth victory of the season as the heavy betting favorite.

"She's such a game filly," Dillander said after the win. "She does get a little aggressive behind the gate but aside from that, she's very handy. She wants to win and that's her best quality."

"I knew I wanted to get a good position leaving but I was just hoping I wouldn't have to use her too hard to do so," he continued. "She really can race anyway and she's a great filly to drive."

Trained and owned by Marlin Fry, Nora Rockwell scored her 10th lifetime victory and now sports a lifetime bankroll of $141,072. The daughter of Palone Ranger-Norma Rockwell notched her third consecutive victory at Hoosier Park with the win.

Tetrick would get back to the winner's circle, this time for the third time, after Churita used a gate to wire effort to score in the $75,000 Indiana Sires Stakes for three-year-old trotting fillies in 1:55.2. Tetrick placed the overwhelming favorite on the front and she was able to hold off a late charge from Hannelore Hanover and Ricky Macomber Jr. to score her fifth consecutive victory.

Trained by Matt Rheinheimer, Churita has now won 13 of 15 lifetime outings and remains undefeated in 2015. Owned by Jackie Porter, Churita has amassed $364,550 lifetime.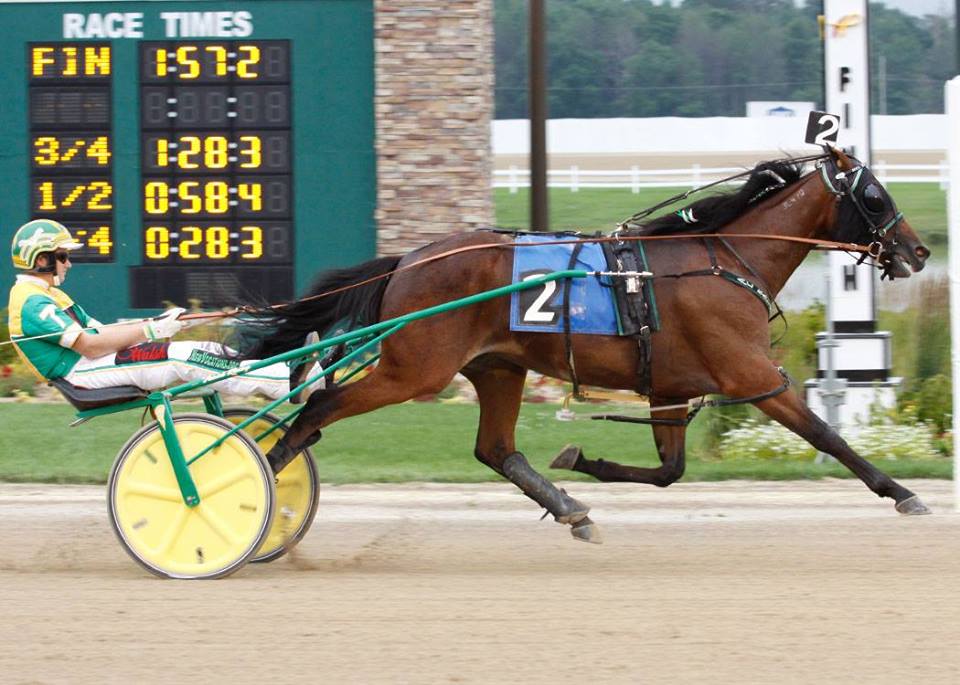 Linscott Photography

Justice As.

The lone upset of the evening came in the $75,000 Indiana Sires Stakes final for two-year-old trotting fillies as Doug Rideout and Just Jess scored at odds of 25-1. Using the long Hoosier Park stretch to his advantage, Rideout found late racing room and Just Jess surged late to score in 1:59.4.

"She's always done everything right, everything we asked," Rideout noted after the race. "She qualified well but then had some issues. We've been working hard on her and tonight she put it all together."

"I was trying to be cautious with her tonight," he continued. "She's always had speed and I just wanted her to stay at it. She's going to turn into a really nice filly when she puts it all together."

Trained by Doug Rideout, the homebred daughter of Jailhouse Jesse-Glide Sally Glide scored her second lifetime victory from three starts. Owned by Julie Rideout and Alan White, Just Jess has now earned $40,000 lifetime.

In the very next division of the stakes action, Mystical Rock and LeWayne Miller delivered as the 6-5 favorite in the $75,000 Indiana Sires Stakes final for two-year-old pacing colts and geldings. Benefitting from a pocket trip, Mystical Rock used a :28 final panel to best his rivals in 1:54.1 and establish a new lifetime mark in the process.

"He's a little bit lazy," Miller noted in the winner's circle. "He has always been a very nice colt and I've always liked him but he will only do what you ask him."

"The trip worked out well for us," Miller continued. "I knew we would have to leave a little bit to hold our position but we got a little breather down the backside. He raced really good tonight."

As the stakes action switched gears, Homicide Hunter and John Delong kept the favorite trend alive for the evening as they prevailed in the $75,000 Indiana Sires Stakes for three-year-old trotting colts and geldings. Overcoming a tough, first-over trip, Homicide Hunter reached the lead around the final turn and held off all charges to win by two lengths in 1:55.3.

"I just didn't want to get him started up early," Delong said in the winner's circle after the victory. "I wanted to get a seat and it didn't work out exactly like I thought but he did what he had to do, he's awesome."

"He'll do anything you ask him," Delong continued. "He's a true professional."

With the victory, Homicide Hunter remains undefeated in 2015 from six seasonal outings. Owned by Dr. Patrick Graham and trained by Curt Grummel, the son of Mr. Cantab-Evening Prayer has now won nine of 16 lifetime starts.

Freaky Feet Pete and Trace Tetrick rounded out the stakes action in a big way as they were able to overcome traffic issues to score in the $75,000 Indiana Sires Stake Final for three-year-old pacing colts and geldings in 1:49.2. Away a worrisome fourth, Tetrick was able to find late racing room around the final turn and Freaky Feet Pete did the rest.

Using a :25.3 final quarter, Freaky Feet Pete was shown daylight and exploded past his rivals late in the lane to win by five lengths, under wraps. It was a lifetime best mark for Freaky Feet Pete and his third win of the season.

Trained by Larry Rheinheimer, Freaky Feet Pete scored his twelfth career victory from fourteen lifetime outings. The son of Rockin Image-Skyway Lori has now earned $339,600 for his owners Mary Jo Rheinheimer and Marty Rheinheimer.

The 2015 stakes season will culminate with the top ten horses from each of the previous $75,000 finals returning to compete in a $200,000 Super Final on October 10 at Hoosier Park. With purses leaning toward the $2 million mark, the 14-race card slated for October 10 will be one of the richest nights offered in the Indiana Sires Stakes program.

Live racing will continue at Hoosier Park Racing & Casino on Saturday, July 4 with a 14-race card. With an adjusted live racing post time of 4:00 p.m. for Saturday's card, Hoosier Park will also offer racing fans an Independence Day celebration that will include a carnival, a professionally produced fireworks shows, a beer garden and live entertainment.

Emily Gaskin