Donerail (US)
hingst född 1992 (Död 2016)
1,11,2ak - 703 049 Usd
Starter Tot: 0: 0 - 0 - 0
Tränare:
Ägare:
Uppfödare:

2022-11-09
Donerail är till Salu på Booodbankens hemsida.
Se länk här
Tillbaka
2017-04-12. Donerail har gått ur tiden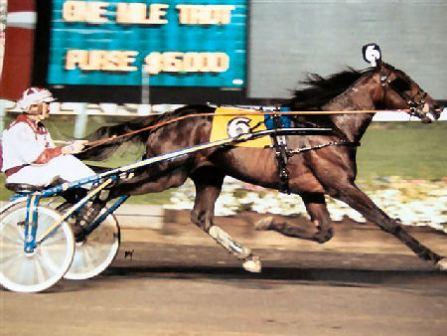 Karriären i kort...
Winner of 13 of 15 starts at 2, the year's
richest and fastest 2YO trotter, and season's
record-setter on mile and half-mile tracks.
Wins included the Peter Haughton Memorial,
Valley Victory, Dancer Memorial,
Harriman Cup, NJSS Championship, etc.
Stakes winner at 3, including the
Historic Cup, NJSS, etc.
Valley
Victory
f.86
1,11,8ak - $485 307

Baltic Speed
f.81 T3 1,11,2
$ 1 271 764

Speedy Somolli f.75 V3-11,5 $427 550

Sugar Frosting f. 72 V2-22,7 $17 236

Valley Victoria
f.81 1,15,0

Bonefish f.72 V3 1,13,5 $ 309 375
Victorious Lou f. 72 1,13,9 $ 48 836

Bedell
f.81 18,4

Speedy Crown
f.68 V3 1,12,8 $ 545 495

Speedy Scot f.60 V3-1,12,6 $650 909
Missele Toe f.62 V3-17,9

So Blesssed
f.75 13,2

Noble Victory f.56 1,14,2 $ 166 622
Silk Rodney f.61 V2 21,5
Mor till :
(94) Gramola
1,11,4 484 208$
(92) Donerail
(90) Turbo Thrust 11,6
(86) Suydam 13,3
(89) Soulfoul Heart 12,2
(88) T-Ball 14,0 $
( ) The Wizard 13,2
Mormor till :
Zatopek OK 13,9 Image
Quest 13,2 Dream
Fulfilled 14,2 Suydance
13,0
So Blessed mor till :
(82) Armbro Devona
11,8 570 100$
(84) Armbro Fern
1,11,4 205 701$
(94) Armbro Pious 13,3
Mormor till :
Thor di Jesolo 14,3 Armbro
Keepsake 11,2 Armbro
Leaf 13,0 Armbro Marino
13,3 Nonsuchthing 11,4
Heart of Grace 14,5
Vai de Josolo 13,2
Armbo Winner 12,2
Armbro Acorn 13,8
Mormor till :
Armbro Delicious 14,4 Moore Hanover 14,1
Salem Lobell 13,7