There are times throughout the history of any activity where dominance is exerted by one or other participant. The world of harness racing is no different and in the field involving trotters the period from the 1970's – 1990's featured two trotters whose accomplishments outshone all others.
Speedy Crown and Super Bowl were the two trotters in question. The breeding, racing and stud careers of both will be reviewed in separate articles, however it will soon be apparent there are similarities that feature between them. Speedy Crown's exploits will be reviewed first and those of Super Bowl at a later date.
Breeding
Speedy Crown traces to Scotland, he was his great great great grandfather. Scotland together with Volomite was a dominant force in the 1930 – 1950 period. An amazing fact Scotland (1925) and Volomite (1926) were born just a year apart, exactly the same as Speedy Crown (1968) and Super Bowl (1969).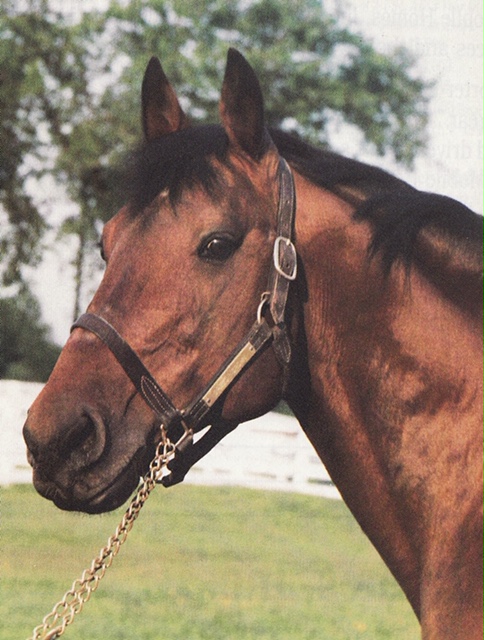 SPEEDY CROWN (1968h Speedy Scott/Missile Toe), winner of twenty nine races, T1:57.1US, $545,495; bred by Ann Beissinger, Hamilton, Ohio/trained and driven by her husband Hall of Famer Howard Beissinger; raced by Crown Stable Inc, New York (Thomas and Frank Antonacci)
On his paternal side, Speedy Crown traces back to Happy Medium through his grandson Peter the Great, on then to Peter Scott sire of Scotland whose fastest son was Spencer Scott (T1:57¼USTT), 1940 Hambletonian/Kentucky Futurity – 3T, fastest trotter of year at three and four, fastest trotting stallion for eleven years until deposed in 1952 by Super Bowl's son Stars Pride (T1:57.1US). Spencer Scott, standing at Hanover Shoe Farms was the sire of Rodney (T1:57.2USTT, Dickerson Cup, Hambletonian heat, won forty seven races, Harness Horse of Year), leading sire before his early death aged thirteen. Gerry Mir was a Rodney stallion that stood at stud in NZ (dam sire of Cedar Fella; Dominion Hcp, NZ Trotting FFA/Championship). It is worth noting that Rodney was the dam sire of Super Bowl.
Rodney sired the appropriately named two minute trotter Speedster (T1:59.4US, dam sire of Hambletonian winner Bonefish), sire of Speedy Count, successful sire of Delmonica Hanover (International Trot twice, Prix d'Amerique) and dam sire of international champion Mack Lobell (twenty Group Ones) and successful sire. However Speedster's real fame came from being the sire of 1963 Triple Crown winner Speedy Scot (forty four wins, T1:56.4US, $650,909, Hambletonian/Kentucky Futurity/Yonkers Trot – 3T, International Trot, two and three year old Trotter of Year, Harness Horse of Year). Speedy Scot's most outstanding progeny was of course Speedy Crown but he also left Arnie Almahurst and another major siring line.
On his maternal side, Speedy Crown descends from the family of Le Blonde (U48) which has a number of major European winners including Shogun Lobell (Dickerson Cup, three Swedish/one German Group One). Speedy Crown was the first two minute performer from this family as was his dam sire Florican from the Contention family (U33).
Speedy Crown's dam Missile Toe (Florican/Worth A Plenty), was served by Speedy Scot in 1967, the resultant first foal being Speedy Crown. Howard Beissinger originally named Speedy Crown Headin and Heelin after a rodeo event. His subsequent purchaser ($20,000) Frank Antonacci changed his name to Speedy Crown. Missile Toe (T2:05.2US at Monticello, $22,362) raced from two to four years of age.
Missile Toe a very productive mare leaving eight winners from thirteen foals including :
Speedy Toe (1969), winner, T2:01.1US, $7,963, dam of
– Lindys Crown (T1:54.4US at Du Quoin in 1980 equalled Nevele Pride's 1969 mile record but was a race mile record; world record on 5/8ths track 1980, T1:57.1; leading sire in Sweden three seasons);
– Shogun Lobell (T1:55.1US, $1,088,846, see earlier)
– Crown Pride (T1:58.2 Italy)
– Speedy Flaik (T1:58,2, $139,023)
– Third dam of Candy Victory (Goldsmith Maid – 2fT fourth dam of Bit O Candy (World Trotting Derby); sixth dam Pilot Discretion (CAN Goodtimes – 3T)
Glencoe Pride T1:57.1US, $276,774 (Dickerson Cup, Canadian Trotting Classic)
Grand dam Worth A Plenty (Darnley/Sparkle Plenty), was the result of a mating with Walnut Hall stallion Darnley (Scotland) and purchased by Howard Beissinger for $2,200. Worth A Plenty only raced at three mainly around the Chicago area (T2:02.2US at Springfield, $7,560). Producing four two minute trotters, her first foal, First Dividend (T2:06.1US, $17,791) was by the first ever Triple Crown trotting champion Scott Frost (1955). A second foal followed a year later and was named Missile Toe (as above). Worth A Plenty was then exported to Europe.
Third dam Sparkle Plenty (Worthy Boy/The Gem), dam of Worth A Plenty (see above); grand dam of Editor in Chief (T1:56.0, $349,736), Sparkling Norman (Dickerson Cup); third dam of Nevele Thunder (Dickerson Cup); fifth dam of CR Dream Catcher (T1:53.4US, $579,958, Su Mac Lad Open Trot) and sixth dam of recent millionaire Dayson (T1:51.2US, $1,127,677).
Fourth dam The Gem (The Senator/Ellie Trabue), T2:08½US, $3,922. Her dam Ellie Trabue finished third in the inaugural Hambletonian run in 1926 at Syracuse (winner Guy Axworthy). The Gem formed part of the Castlelton Farm broodmare band and among the winners she produced was a Worthy Boy filly named Sparkle Plenty (T2:07.3, $5,990) as above.
Race Career
Speedy Crown raced sparingly at two making only $2,025 in stakes in his juvenile year (1970) from eight starts for four victories. His trainer Howard Beissinger time trialled him at Lexington (dr Joe O'Brien) where he trotted T2:01.2USTT which was good but not the years fastest two year old trotter (Noble Gesture T1:59.1US, first in Hoof Beets Experimental Ratings).
As a three year old in 1971, Speedy Crown was USA 3yo Colt and Gelding Trotter of Year, USA Trotter of Year and both 3yo/overall Fastest Trotter of Year (T1:57.1US). The winner of his first three seasonal starts at Scioto Downs, Ohio, he followed this with an upset victory over Quick Pride in the American National (Gp2) for 3yo colt trotters (T2:02.0SUS).
A fortnight before the Hambletonian, Speedy Crown who was not eligible for the Review Futurity, time trialled instead at Springfield in T1:57.4US (Futurity heats run in T1:58.1 and T1:58.2). Another son of Speedy Scot in Hoot Speed (T1:57.3, $136,710) was like Speedy Crown favoured for the Hambletonian. Speedy Crown took out the first heat from Hoot Speed by three lengths in T1:57.2US and followed up in the second heat again defeating Hoot Speed in T1:58.1US. Speedy Crown was declared Hambletonian (Gp1) winner of 1971 with a 2 – 0 record in the heats.
Following defeats by Hoot Speed and Savoir, Speedy Crown won the Old Oaken Bucket (Gp2, T1:59.2US; won two, second in other heat) in three heats over Savoir at Delaware on Jugette Day 23 September 1971. Speedy Crown's time of T1:59.2 in the second heat established a world record for a three year old trotter on a half mile track. Not eligible for the Kentucky Futurity, Beissinger raced him at the Red Mile, Lexington where he set a season's fastest record of T1:57.1US (halves in 57.1, 60.0). Other races won by Speedy Crown this season were Leland Stanford 3T/4T at Hollywood Park, Challenge Stakes at Scotio Downs, Hanover Stakes at The Meadows, heat of Founders Gold Cup and Gay Acres Trot. Speedy Crown was the winner of fifteen races from twenty four three year old starts for stakes of $189,342.
At four (1972), Speedy Crown suffered defeats by Savoir, Fresh Yankee and Keystone Hilliard before his opening victory at Scotio Downs in a world record equalling T1:58.0US on a five eighths track (equalled Nevele Pride's record and best pacing record on track also 1:58.0, Columbia George). At Roosevelt Raceway he won the American Trotting Championship (Gp2) which secured an invitation into the Roosevelt International Trot (Gp1) which he won defeating Fresh Yankee easily.
A three horse Challenge Match race involving Speedy Crown, Fresh Yankee and French champion mare Une De Mai (winner 1969 Roosevelt International) was eventually arranged for a stake of $150,000 (had been increased from $50k to $100k to $150k before Beissinger agreed to start). Speedy Crown proved an easy winner of the event run over 1¼m (T2:32.1US, three seconds faster than his winning time in Roosevelt International).
During the 1972 season, Speedy Crown also won another Challenge Stakes – 4T at Scotio Downs, Dygent Memorial (Gp2) at Hawthorne, Maple Leaf Classic (Gp2) at Mohawk, Canada, Challenge Cup and the Realization – 4T both at Roosevelt. In the month of July 1972, he won stakes of $192,000 and at one stage had a winning streak of nine victories from ten starts, his only defeat being at the hands of Flower Child. With a four year old career record of eighteen starts for ten victories, $354,128 in stakes he was awarded USA Horse or Gelding Trotter of the Year. Speedy Crown was retired at this time, the winner of $545,495 and sixth richest ever trotting stallion.
Race Record :
| | | | | | | | |
| --- | --- | --- | --- | --- | --- | --- | --- |
| Year | Age | Starts | Wins | Seconds | Thirds | Earnings | Record |
| 1970 | 2 | 8 | 4 | 1 | 0 | $2,025 | T2:01.2US |
| 1971 | 3 | 24 | 15 | 3 | 3 | $189,342 | T1:57.1US |
| 1972 | 4 | 18 | 10 | 5 | 2 | $354,128 | |
| Totals : | | 50 | 29 | 9 | 5 | $545,495 | |
Stud Career
In simple terms, one of the greatest sires in the history of harness racing. Syndicated for one million US dollars, Speedy Crown went to Lana Lobell Stud, southern Pennsylvania where he spent the majority of his breeding career. The sire of in excess of 2,200 foals, approx. seventy percent of whom raced, four hundred and fifty trotted in two minutes or better and were the winners of over $106 million.
Speedy Crown retired from stud duties at end of 1996 breeding season, after twenty four seasons in the breeding shed (1973 – 1996). His first foals raced in 1976 with Speedy Somolli from his second crop winning the Hambletonian in 1978, trotting fastest race in history T1:55.0US as a 3yo at Du Quoin in 1978, retiring to stud as a multiple World Champion before becoming Speedy Crown's best siring son.
Siring sons of note include standout Speedy Somolli and other North American sires of winners namely Armbro Goal and Crowning Point (both exported to Italy, many European winners), Jazz Cosmos, King Conch, Prakas (exported to Germany, European winners), Royal Prestige (exported to Europe), Sir Taurus and Smokin Yankee.
Speedy Crown is the great-grandsire of leading sire Valley Victory, sire of six million dollar winners (Lookout Victory, Continentalvictory, Muscles Yankee, General November, Bullville Victory, Victory Dream) and three Hambletonian winners (Continentalvictory, Victory Dream, Muscles Yankee). Valley Victory is grandsire of 1999 Hambletonian winner Self Possessed (T1:51.3US, $1.346 million). Muscles Yankee (T1:52.2US, $1.424m) is a great-great-grandson of Speedy Crown. Among some of Europe's greatest trotters were his grandson Remington Crown (Sweden, Elitloppet) and great-grandson Varenne (Italy, who won the Elitloppet twice, Prix d'Amerique, USA Breeders Crown Open Trot). His sons have also become leading sires in Europe.
Until relatively recently no other stallion had sired more million dollar winners than Speedy Crown (see below). Muscles Yankee with thirteen and Andover Hall with twelve have leapt to the top of the millionaires table with Speedy Crown on the third line with eleven together with Cantab Hall, Super Bowl and Yankee Glide. Speedy Crown was leading money winning trotting sire for fourteen seasons (1978 – 1990 and 1992) and leading sire of winners on six occasions (1981 – 1985, 1987) in USA. He also topped many age and time related Broodmare Sire lists over a lengthy period of time in USA.
Speedy Crown was inducted into the USA Harness Racing Hall of Fame in 1996 and to the Hall Of Fame Immortals following his death on 4 May 2000, aged thirty two. He is buried in the infield at Historic Track, Goshen, New York.
Breeding crosses of note for Speedy Crown indicate the influence of Stars Pride from the Volomite line. Stars Pride is considered at least the equal of Speedy Crown, being the sire of Super Bowl, continuing the influence of great sires of an earlier era : Scotland over Volomite line. Classic Families breeding crosses of note for Speedy Crown include those relating to Super Bowl (39 examples; son of Stars Pride), Hickory Pride (36, son of Stars Pride), Noble Victory (35), Stars Pride (34) and Nevele Pride (21, son of Stars Pride).
Among Speedy Crown's siring credits are :
One million dollar winners – eleven (Moni Maker, Empire Lobell, Prakas, Crowns Invitation, Kit Lobell, Armbro Goal, Armbro Fling, Gum Ball, Royal Prestige, Britelite Lobell) plus Nealy Lobell 6,930,740SK
1:53 Trotters – two in first 500 worldwide (Moni Maker, Shipmate Lobell)
1:55 Trotters – ten in first 100 in North America (Prakas, Fancy Crown, Crowning Point, Crowns Best, Premium Lobell, Armbro Goal, Kit Lobell, Embassy Lobell, Speedy Somolli, Jazz Cosmos)
1:55 Pacers – one in first 100 in North America (Rowdy Yankee)
Major race winners :
Hambletonian – three (Armbro Goal, Prakas, Speedy Somolli)
Hambletonian Oaks – six (Moni Maker, Gleam, Working Gal, Armbro Fling, Fancy Crown, Dance Spell)
Elitloppet – two (Moni Maker, Gum Ball)
Prix d'Amerique – one (Moni Maker)
Kentucky Futurity – 3T – four (Fancy Crown, Jazz Cosmos; 3fT – Delphis Daughter, Armbro Ermine
Yonkers Trot – three (3T – Crowns Invitation, Speedy Somolli; Open – Kit Lobell)
World Trotting Derby – eight (Armbro Goal, Prakas, Royal Prestige; 3fT – Gleam, Britelite Lobell, Keystone Profile, Lady Lexington, Dance Spell)
Dexter Cup – six (Armbro Ogden, Crowns Invitation, Armbro Goal, Crowns Best, Mangrove, Defiant Yankee)
Nat Ray – five (Moni Maker three times; Crowning Point, Banker Barker)
Breeders Crown –
2T – six (Giant Chill, King Conch, Workaholic; 2fT – Armbro Prowess, Gleam, Delphis Lobell)
3T – five (Embassy Lobell, Prakas; 3fT – Armbro Fling, Armbro Devona, Fancy Crown)
Aged – three (Open – Moni Maker, Delray Lobell; Mares – Armbro Flori)
Peter Haughton Memorial – four (Giant Chill, Why Not, Dancers Crown, Self Confident)
Merrie Anabelle – seven (Rae, Armbro Fling, Britelite Lobell, Armbro Blush, Sashay Lobell, Dance Spell, Ahhh)
Fastest and Richest Trotter : Moni Maker T1:52.1US, $5,589,256, first standardbred to break the five million dollar mark
USA Horse Of Year : 1984 Fancy Crown; 1998 and 1999 Moni Maker
USA Trotter Of Year : 1978 Speedy Somolli; 1982 Jazz Cosmos; 1984 Fancy Crown; 1985 Prakas; 1986 Royal Prestige; 1998, 1999 and 2000 Moni Maker
Among Speedy Crown's progeny of note who were spread over the twenty four seasons he spent in the stallion barn were:
Moni Maker, is his top performer, a two-time Horse of the Year, then richest Standardbred in history, with earnings in excess of $5.5 million, and the fastest (T1:52.1US) of Speedy Crown's progeny. She was the winner of nineteen of twenty starts at three; eighteen Group Ones (eleven in Europe : Elitloppet, Prix d'Amerique, Copenhagen), a further fourteen Group wins; four times 4yo+ Trotting Mare of Year in USA; Canadian O'Brien Older Trotting Mare of Year twice; three time Trotter of Year in USA; fastest Trotter of Year 1997 (T1:52.2US); European mile record holder T1:10.6EU, 1998 at Solvalla in Elitloppet. Moni Maker was a product of Speedy Crown's twentieth season at stud (1993).
She is dam of five classic winners, three in sub T1:55.0 including International Moni (T1:51.4US, $775,463), Canadian O'Brien Three Year Old Trotter of Year. Her fillies are breeding on
Others in no particular order except males first :
Speedy Somolli, trotted T1:57.2US as a two year old at DuQuoin on 2 September in 1977 only for Brisco Hanover (Super Bowl) to trot a new world record of T1:57.0 an hour later. Speedy Somolli was two, three and overall Trotter of Year; fastest trotter of year at three when he set new trotters race mile record of T1:55.0 at DuQuoin (2 September 1978; Florida Pro equalled time same day, same track)
Prakas, second fastest son of Speedy Crown, T1:53.2US, $1,956,056; trotters mile/race mile, three year old/overall record/fastest trotter of year set at DuQuoin on 31 August 1985; three year old and Trotter of Year; successful sire, exported to Germany
Armbro Goal (USA/CAN three year old Trotter of Year; exported to Italy; dam sire of Credit Winner/Royal Prestige (fastest two/three year old Trotter of Year; exported to Europe; sire of Pride Of Petite, dual ID Trotters champion), both good sires at Castleton Farm
Crowns Invitation outstanding trotter in North America and Europe, Italy 3yo Gran Premio Orsi Mangeli $400,000, T1:56.3 on half mile track; Elitloppet heat; stake earner of year in Italy and Europe
Embassy Lobell, Breeders Crown and outstanding racing career in Europe
Workaholic, winner of first Breeders Crown held at The Red Mile in 1984; two year old Trotting colt of year, exported to France; broodmare sire of Orlando Vici
Jazz Cosmos, three year old and overall Trotter of Year; successful sire at stud in Canada; in Australasia sire of Lilly The Pink (ID heat) and broodmare sire of Jazz Legend (ID Trot Consolation)
TV Yankee, mile record/fastest two year old trotter of year of T1:56.0US, successful sire
Crowning Point, third fastest North American siring son of Speedy Crown, successful sire, exported to Italy
Rowdy Point, his only pacing star ($470,582, 1:54.4US)
Prominent female progeny sired by Speedy Crown included –
Fancy Crown, at two, T1:55.4TTUS at Lexington Red Mile on 8 October 1983 set two year Trotters mile record, fastest two year Trotter of Year; at three, T1:53.4US at Springfield on 19 August 1984 (Mares, overall Trotters and race mile record, fastest three year old and overall Trotter of Year), USA three year old, Trotter and Harness Horse of Year; $911,965;
Kit Lobell, International Trot at Yonkers before further Group One success in Europe
Armbro Fling, CAN two and three year old Trotting Filly of Year; USA three year old Trotting Filly of Year; died in paddock accident at four
Britelite Lobell, USA two year old Trotting Filly of Year; CAN two and three year old Trotting Filly of Year; dam of Britewell, stood at stud in NZ, sire of Uncle Petrika (ID Trotters Final, dam sire of Sunny Ruby
Nealy Lobell, great performer in Europe who started in five Elitloppet's
Armbro Blush, USA and Canadian Two Year Old Filly Trotter of Year; multiple classic winning producing mare
and so many more of note, let alone Speedy Crown's broodmare sire credits.
Speedy Crown, a classic example of a once in a lifetime trotter.
Peter Craig
12 November 2022