As was noted in the harnesbred.com article of 12 November 2022 concerning Speedy Crown, there are times throughout the history of any activity where dominance is exerted by one or other participant. The world of harness racing is no different and in the field involving trotters the period from the 1970's – 1990's featured two trotters whose accomplishments outshone all others. Namely Speedy Crown and Super Bowl were the two trotters in question. A review of Super Bowl's impact on North American trotting follows.
Breeding
Super Bowl traces to Volomite as his great grandson, Volomite together with Scotland was a dominant force in the 1930 – 1950 period. It is amazing that Volomite (1926) and Scotland (1925) were born just a year apart, exactly like Super Bowl (1969) and Speedy Crown (1968).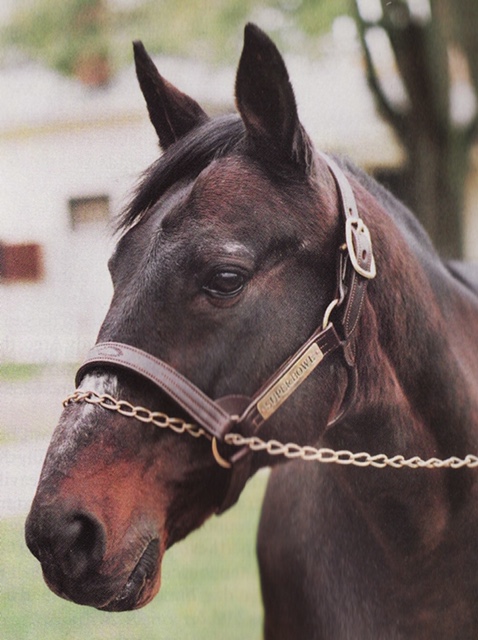 SUPER BOWL (1969h Stars Pride/Pillow Talk), winner of thirty eight races, T1:56.2US, $601,006; bred by Stoner Creek Stud/trained and driven by Stanley Dancer (purchased for $20,000 as a yearling), raced by Rose Hild Breeding Farm (Hilda Siverstein) and Rachel Dancer.
On his paternal side, Super Bowl traces back to Happy Medium through his grandson Peter the Great (five generations removed), on then to Peter Volo sire of Volomite, possibly the most influential stallion born in the twentieth century. Super Bowl is inbred 3×3 to Volomite, only two generations removed from Volomite who was bred by Walnut Hall Farm, sold by them as a yearling and repurchased for stud duty at the conclusion of his three year old racing career.
Volomite served Peter Brewer mare Warwell Worthy (second in Greyhound's Hambletonian of 1935) producing Worthy Boy who was purchased by automobile heiress Frances Dodge Johnson (later Mrs Frederick Van Lennep). Worthy Boy won a Hambletonian heat but was surpassed in his year by another Volomite colt in Volo Song.
Mrs Johnson purchased Castleton Farm in the mid-nineteen forties installing Worthy Boy as one of the first to stand in their stallion barns. Bred from his second crop, together with the Mr McElwyn mare Stardrift, Worthy Boy produced Stars Pride in 1947 (T1:57.1US, $140,969) who was a winner of Kentucky Futurity – 3cT and Dickerson Cup among others before becoming a great sire for Hanover Shoe Farms in Pennsylvania. Leading sire of trotters in USA on twelve occasions (stakes' basis also overall leading sire once), three times (winners) and leading broodmare sire on numerous counts. Stars Pride sired eight Hambletonian winners in the fifteen year period 1958 – 1972 (Emilys Pride, Diller Hanover, Ayres, Egyptian Candor, Kerry Way, Nevele Pride, Lindys Pride, Super Bowl) and ten Kentucky Futurity winners. His influence on Australasian trotting breeding can be traced through Chiola Hanover, Jazz Cosmos and especially Game Pride (Hickory Pride, son of Stars Pride). Bred with Pillow Talk, Stars Pride claimed parentage of Super Bowl.
On his maternal side, Super Bowl descends from the family of Contention (U33), who apart from North American credits mentioned throughout this article also included Galophone, Crystal Fashion and numerous European winners due to both mares and sires having been exported to Europe. Super Bowl was just the fifth two minute trotter produced by this family (Florican, Galophone, Matastar, Kerry Way).
Super Bowl's dam Pillow Talk (Rodney/Bewitch), was a winner in T2:11.1US ($1,119) at Monticello as a three year old in 1963, the same year and track on which Speedy Crown's dam Missile Toe set her mark of T2:05.2US. Served by Stars Pride in 1968, Pillow Talk's third foal was Super Bowl, one of ten winners from fourteen foals. Later foals of note were all fillies by Nevele Pride including :
Chit Chat, unraced; dam of millionaire trotter Go Get Lost, T1:54.3US, $1,197,467, multiple group race winner; sire
Confiding, T2:06.1US, $25,193; grand dam of Softly Dream, T1:55.3US, $459,689, International Stallion Stakes – 2fT
Cheek To Cheek, T1:59.2TTUS, $102,491; dam of Bold Bid, sire of Slovenian Derby winner Jasa; Speed Squared, broodmare sire of Russian Derby winner Champion; Mrs Novak, dam of Aly Richcorp, winner of Norwegian Ulf Thoresen Minnelopp – 3
Embraceable You, T1:58.2US, $43,564; dam of half millionaires Super Speedy ($738,145) and Armbro Approach ($546,089); third dam of Allmar Surprise T1:52.1US, $529,964
Loving Look, unraced; dam of Park Avenue Kathy, T1:56.4US, $1,609,355, Kentucky Futurity/Hambletonian Oaks/World Trotting Derby – 3fT and multiple European group ones
Grand dam Bewitch (Volomite/Bexley), was the result of a mating with Walnut Hall Stud stallion Volomite, Bewitch being purchased for $2,500 by David Johnston from the onsite sale. Bewitch was a notable on track performer winning the Coaching Club Oaks at Historic Track Goshen in T2:05.0US (Johnston had won same race in earlier years with Honor Bright and Crystal Hanover), equal fastest mile on the half mile track (record shared with Dean Hanover, Rodney, Martha Doyle and Stars Pride – rich company). The world half mile track record for fillies was T2:04.3US at the time. Also winning the second ever Reynolds Memorial 3T at Pocono Downs, retiring to the broodmare paddock with a best mile of T2:03.4US, $33,025, breeding on leaving a number of winners and an extended family, most notable being her Rodney fillies :
Beloved (T2:08.1US, $14,460), dam of Hambletonian winner Kerry Way (T1:58.4US, $221,559), a full sister in blood to Super Bowl; grand dam of Classical Way (T1:55.2, $715,499, Kentucky Futurity – 3T, Roosevelt International. Grand Prix de France); great grand dam of Breeders Crown – 3fT winner Expressway Hanover (T1:55.2, $339,606); 4th dam of Rotation (T1:52.3US, $1,245,143, Nat Ray); 5th dam of millionaire trotter Costa Rica
Pillow Talk (see above), and
Whispering (Speedster), unraced dam of several winners and mares who bred on
Third dam Bexley (Clever Hanover/Santos Express), unraced, produced a number of winners in both North America and Europe including Bewitch (as above). Fourth dam Santos Express (Atlantic Express/Evening Gale), unraced dam of Bexley. Fifth dam Evening Gale (Peter The Great/Morning Gale), the 1917 foal of Morning Gale was also unraced but bred on. Sixth dam Morning Gale (Baronmore/May Gale), unraced, sold to Castleton Farm where she was very productive including Harvest Gale, the third dam of Florican. Seventh dam May Gale (Don Wilkes/Nightingale), unraced. All part of Super Bowl's very strong maternal family.
Eighth dam Nightingale (Patchen/Mabel), bred in Ohio was one of the leading ladies of the trotting track in the early 1890's. With a best time of T2:10½US, she didn't race until eight years old in 1892 winning the Merchant and Manufacturers (Detroit) and Charter Oak Open Trot. Nightingale was stake earner of the year in 1892.
Her dam Mabel also produced a very successful Grand Circuit horse in Cresceus, winner of numerous Grand Circuit FFA's; leading stake earner on two occasions and a trotter that contributed to the all time trotting speed records. In 1901, he twice improved the Trotters mile to T2:02¾TTUS at Cleveland (26 July 2022) and later lowered this to T2:02¼TTUS at Columbus Driving Park, Ohio on 2 August 1901. He was the first stallion to hold this record since Lady Suffolk's record mile in 1845 and the only one until Nevele Pride in 1969 (all other record holders are either mares or geldings), a 124 year span. Cresceus also established the trotter's race mile record of T2:03¼US at Brighton Beach, New York on 15 August 1901.
Race Career
Unlike Speedy Crown, Super Bowl raced extensively as a two year old earning $163,748 and winning on fifteen occasions from twenty starts during his juvenile year (1971). Winning his first start at Atlantic City in T2:09.2US before contesting his first stakes race, the Hanover-Hempt at Pocono Downs where he finished fourth to his nemesis Songcan from Quebec. Continued on to win the Reading Futurity (Laurel Raceway) followed by the Challenge Stakes (Scotio Downs).
Early in the two year old season, his Stanley Dancer stablemate Stars Chip would have ranked ahead of him. By mid-August Super Bowl had caught up with and beat his stablemate in consecutive heats at Springfield (Illinois) in Review Futurity, shared heats at Indianapolis and were both defeated at DuQuoin by Songcan when he recorded just the fifth T2:00.0US mile by a juvenile colt trotter. Further victories resulted in the Bluegrass and International Stallion Stakes (Lexington); Liberty Bell Park, Philadelphia (world record T2:01.4US on five eighths track for two year old trotter) with his season concluding with a win in the E Roland Harriman (Yonkers) over Delmonica Hanover and Songcan.
Earlier victories had included : Westbury Futurity (Roosevelt, New York), Westchester (Yonkers), Hanover Colt Stakes (Freehold, Maryland), Horseman Stakes (Indiana State Fairgrounds), Van Riddell (Greenwood Raceway, Toronto), Walnut Hall Cup. His trainer Stanley Dancer drove him on most occasions although brother Vernon did so at times when Stanley handled stablemate Stars Chip. Super Bowl was fastest 2yo Trotter of 1971 (T1:59.4US, Lexington; third fastest two year old trotter of all time behind Nevele Pride and Nobel Gesture) and 2yo Colt and Gelding Trotter of Year in USA.
As a three year old in 1972, Super Bowl was USA 3yo Colt and Gelding Trotter of Year, USA Trotter of Year stablemate Albatross named Horse of Year), both 3yo/overall Fastest Trotter of Year (3yo world record T1:56.2US, 30 August 2022 in Hambo heat at DuQuoin), stake earner of year ($436,258) and trotter with most wins for the season – twenty three from twenty eight starts (eighteen consecutive) of which twelve were in two minutes or better.
His arch nemesis Songcan struck an early seasonal blow by annexing the Dexter Cup with Super Bowl second. With Songcan ineligible for the Hambletonian, Super Bowl made no race of it winning two straight heats at DuQuoin from Delmonica Hanover to be crowned Hambletonian champion of 1972. It was Dancer's second Hambo, first with Nevele Pride and later Bonefish and Duenna.
Wins followed in the Colonial Trot (Rosecroft Raceway, Fort Washington) and Yonkers Trot (Delmonica Hanover second, Songcan third) before he became the first three year old trotter for thirty two years to complete the Triple Crown (later Windsongs Legacy 2004, Glidemaster 2006, Marion Maruader 2016) – his win in the Kentucky Futurity (Lexington) with only five entered came courtesy of dragging punctured tyres caused by Songcan in both heats of the mile journeys.
Before concluding his career in California, Super Bowl registered victories at three in Greenwood Trotting Stakes (Greenwood), Tomkins Memorial (Hazel Parkway, Detroit), Hanover Colt Stakes (Meadows, Pittsburg), Horseman Futurity (Indiana State Fairgrounds), Review Stakes (Springfield), American National Stakes (Sportsman Park, Chicago), Founders Gold Cup (Vernon Downs, New York), General George Washington Trot (Brandywine Raceway, Washington), Suburban Downs Classic and three Pennsylvania Sires Stakes.
Final races in California included victories in Leland Stanford Trot 3/4yo and against open class trotters for the first time in the Pacific Trot defeating Une De Mai, Flower Child, Oppy and Dayan. His final career start in the American Trotting Championship resulted in a last place finish. Super Bowl was retired at the conclusion of his record breaking three year old season being purchased for $1m to stand at stud by Hanover Shoe Farms.
Race Record :
| | | | | | | | |
| --- | --- | --- | --- | --- | --- | --- | --- |
| Year | Age | Starts | Wins | Seconds | Thirds | Earnings | Record |
| 1971 | 2 | 23 | 15 | 3 | 1 | $163,748 | T1:59.4US |
| 1972 | 3 | 28 | 23 | 3 | 1 | $436,258 | T1:56.2US |
| Totals : | | 51 | 38 | 6 | 2 | $601,006 | |
Stud Career
In simple terms, Super Bowl was one of the greatest sires in the history of harness racing, siring over 2,200 foals, 1,300 plus to race in North America, twenty six in 1:55, over four hundred trotted in two minutes or better, over two hundred $100k winners and were the winners of over $82 million.
Super Bowl commenced stud duties in 1973 with his first foals racing at two in 1976 as was the case with Speedy Crown. From his first crop came Texas, winner of the 1978 Kentucky Futurity – 3T at Lexington and successful sire : Grades Singing, Copiad (Elitloppet twice), leading juvenile filly Superlou and Jurgy Hanover (American Classic – OT).
North American siring sons of note included Supergill (exported to Italy, successful in Europe), American Winner, Joie De Vie, Texas, Express Ride, Brisco Hanover, Royal Troubador and in Europe Napoletano and Super Arnie.
Until recently no other stallion had sired more million dollar winners than Super Bowl. Muscles Yankee with thirteen and Andover Hall with twelve have leapt to the top of the millionaires table with Super Bowl on the third line with eleven together with Cantab Hall, Speedy Crown and Yankee Glide. Super Bowl was leading money winning trotting sire for two seasons (1991 and 1993) in USA, also topping many age and time related Broodmare Sire lists over a lengthy period of time in USA (between 1986 – 2005).
Super Bowl was inducted into the USA Harness Racing Living Hall of Fame in 1997 and Immortals in 1999 following his death on 2 October 1999, aged thirty. He is buried at Hanover Shoe Farms, Hanover, Pennsylvania.
Breeding crosses of note for Super Bowl indicate the influence of Scotland line with successive sire generations (Speedy Somolli, Speedy Crown, Speedy Scot, Speedster) and also from the Volomite line (Noble Victory). Classic Families breeding crosses of note for Super Bowl to Speedy Crown (62 examples, son of Speedy Scot), Noble Victory (29, son Victory Song), Speedy Somolli (20, son of Speedy Crown), Speedster (16, son of Rodney), Speedy Scot (15, son of Speedster).
Among Super Bowl's siring credits are :
One million dollar winners – eleven (Jefs Spice, Napoletano, Uconn Don, Express Ride, American Winner, Sandy Bowl, Giant Victory, Armbro Keepsake, Davidia Hanover, Shogun Lobell, Joie De Vie)
1:53 Trotters – five in first 500 worldwide (American Winner, Super Spicy, Express Ride, Somatic, Savage Hanover)
1:55 Trotters – fifteen in first 100 in North America (American Winner, Express Ride, Somatic, Savage Hanover, Napoletano, Supergill, Keystone Harem, Super Arnie, Sandy Bowl, Probe, Armbro Keepsake, Giant Victory, Uconn Don, Gingin Hanover, Noxie Hanover)
Major race winners :
Hambletonian – six (Tagliabue, American Winner, Giant Victory, Probe, Speed Bowl, Legend Hanover)
Hambletonian Oaks – two (Jean Bi, Jefs Spice)
Elitloppet – one (Napoletano)
Kentucky Futurity – 3T – seven (Take Chances, Armbro Keepsake, Napoletano, Final Score, Texas; 3fT – Nivea Hanover, Treasure Me)
Yonkers Trot – four (3T – American Winner, Royal Troubador, Master Willie, Joie De Vie)
World Trotting Derby – four (Tejano, Somatic, Napoletano; 3fT – Keystone Harem)
Dexter Cup – six (Super Wally, American Winner Royal Troubador, Master Willie, Joie De Vie, Brisco Hanover)
Nat Ray – one (Final Score)
Breeders Crown –
2T – seven (Catch As Catch Can, Royal Troubador, Express Ride; 2fT – Armbro Keepsake, Jean Bi, Super Flora, Jefs Spice)
3T – three (Giant Victory; 3fT – Nalda Hanover, Jefs Spice)
Aged – one (Open – Sandy Bowl)
Peter Haughton Memorial – five (BJs Mac, Supergill, Ditka Hanover, Express Ride, Triplemint)
Merrie Anabelle – seven (Feel the Motion, Super Nice, Stage Entrance, Davidia Hanover, Delmegan, Highland Bridget, Super Flower)
Fastest Trotters : American Winner and Super Spicy both trotted T1:52.3US
Richest Trotter : Jefs Spice $2,311,271
USA Trotter Of Year : 1991 Giant Victory
Among Super Bowl's progeny of note who were spread over the many seasons he spent in the stallion barn were in no particular order except males first :
American Winner, is arguably his top performing racehorse having trotted T1:52.3US at Syracuse as a three year old (Zweig Memorial division, 22 August 2022), $1,302,451, Hambletonian, Kentucky Futurity – 3T. The full brother to BJs Mac and Super Pleasure, he won sixteen of his twenty seven starts (nine consecutive) being fastest three year old/overall fastest Trotter of Year. A successful sire – Credit Winner and broodmare sire of Muscle Hill, Sand Vic
Napoletano, T1:53.2US at three, close to double millionaire, $1,948,495, winner of Kentucky Futurity – 3T, World Trotting Derby, Hambletonian heat and European Group ones including Elitloppet. Named CAN 3yo Colt & Gelding Trotter of Year, USA 4yo+ Horse & Gelding Trotter of Year, sire
Express Ride, T1:53.0US world record for older trotter at Lexington (25 September 2022) making him fastest USA trotter of year. The winner of $1,456,762, Group Ones in North America and Europe, USA two year old Colt and Gelding Trotter of Year and a successful sire
Giant Victory, T1:54.4US, millionaire, USA three year old/overall Trotter and stake earner of year (1991)
Supergill, T1:53.3US, fastest USA 3yo trotter of year (1988), successful sire in North America – Malabar Man, before being exported to Italy (1994) – Giant Diablo (world record T1:50.1US for mare) and leading sire in Norway (1998, 1999) and Italy (2004)
Tagliabue, T1:53.3US at four, $904,600, Hambletonian, USA three year old colt & gelding trotter of year. Successful sire in North America and Europe, broodmare sire of Ken Warkentin
Joie De Vie, the first trotter to win one million dollars in a season (1983), stake earner and three year Colt & Gelding Trotter of Year
Royal Troubador, T1:57.1US at two winning thirteen of twenty starts including Breeders Crown – 2cT and was named USA 2yo Colt & Gelding Trotter of Year. At three won only two of eight starts (Yonkers Trot and Dexter Cup, third in both heats of Hambletonian, his final race starts), retired due to bone chips in both knees. As a sire, left champion trotting filly/mare CR Kay Suzie and CR Commando who stood at stud in Australasia
Shogun Lobell, millionaire, T1:55.1US, winner of Dickerson Cup and European Group Ones; sire
Prominent female progeny sired by Super Bowl included –
Jefs Spice, T1:55.2US, double millionaire winning just under half in NA and million plus in Europe, $2,311,271. Wins included Hambo Oaks, filly Breeders Crowns at two/three and European Group Ones whilst named USA three year Trotting Filly of Year
Armbro Keepsake, T1:54.3, $882,057. A Canadian two and three year old filly trotter of year, USA 4yo+ older trotting mare of year who won Breeders Crown at 2fT and 4yo mares while defeating the males in the Kentucky Futurity – 3T
Delmegan, T1:55.3US at four. USA two year old Trotting Filly and 4yo+ Trotting Mare of Year; Canadian two/three year old Trotting Filly of Year and Older Mare of Year. The dam of numerous classic winners and Australasian sire Armbro Invasion
Davidia Hanover, millionaire, Group One winner in North America and Europe, winner producing broodmare
Jean Bi, USA two year old filly Trotter of Year and third dam of Twister Bi, T1:08.4EU, 11.749m SK, Yonkers International, Norwegian Group Ones and Swedish stake earner of year
Keystone Harem, T1:53.4US at three which was Trotting Mares mile record set at Springfield (20 August 2022)
Noxie Hanover, T1:55.0USTT was fastest two year old trotter of year and established two year old fillies mile trotting record, Lexington (19 September 2022)
UConn Don, T1:55.0, $1,463,100, Group One winner in North America and Europe; stake earner of year in Italy but died at early age of six
and so many more of note especially in Europe, let alone Super Bowl's broodmare siring credits which include standout Peace Corps (T1:52.4US, $4,137,737, four Breeders Crowns, Kentucky Futurity, Yonkers International, Elitloppet …… .)
Super Bowl, another classic example of a superior trotter.
Peter Craig
19 November 2022