Continentalvictory (US)
sto född 1993
*1,09,7ak - 1 611 170 USD
Starter Tot: 29: 19 - 3 - 1
Tränare:
Ägare:
Uppfödare:

Avkommor - TrackIT -

Speedy Somolli (US)
f.75 1,11,5ak - $427 550
Sugar Frosting (US)
f.1972 V2-22,7 $17 236
Bonefish (US)
f.72 1,13,5ak - 309 375$
Victorious Lou (US)
f.81 1,15,0 $6 719

Chiola Hanover (US)
1.13.2a 684 958 USD

Hickory Smoke (US)
f. 1954 1.13.6a 89 290 USD
Clorita Hanover (US)
f. 1971

Pert Flirt (US)
1.15.2a 98 127 EUR

Noble Victory (US)
f.62 1,11,8ak - 522 391 usd
Tosca (US)
f. 1965 1,21,3a
Här kan du se hennes tävlings statistik
| | | | | | |
| --- | --- | --- | --- | --- | --- |
| Age | Sts | 1st | 2nd | 3rd | Earnings / Time |
| 2 | 15 | 9 | 3 | 0 | $432,650 / 1:55.4 |
| 3 | 12 | 9 | 0 | 1 | 1,178,360 / 1:52.1 |
| -- | 27 | 18 | 3 | 1 | |
Avkommor
Född
Häst
Na
Kön
Auto
Inkört
Val
Far
Notiser
Auk-
pris
1999
CONTINENTALMAN
US
H
12,7
0
USD
MALABAR MAN
-
$450,000
2000
BALL FIELD
US
V
11,8
46 066
USD
PINE CHIP
Såldes på Tattersalls auktion 2001 vid namn CONTINENTAL PINE
$300,000
2003
GASTINE
US
S
12,6
100 424
USD
GARLAND LOBELL
-Såldes vid namn CONTINENTAL DREAM
-
2005
LARPEGE
US
H
13,6
22 108
USD
DAGUET RAPIDE
At 2, third in Champlain Stakes Open
-
2006
MARADRIA
IT
S
LOVE YOU
-
-
2007
NE ME QUITTE PAS
IT
H
14,3
169 980
SEK
DAGUET RAPIDE
-
-
2008
UNIVERSAL SUCCESS
US
S
13,7
4 650
USD
ANDOVER HALL
-
-
2011
CONTINENTAL DIVIDE
US
H
MUSCLE HILL
Skulle säljas på Lexington 2012, nr 72, men ströks
OUT
2012
LITTLE ROUND TOP
US
H
DONATO HANOVER
Såldes på Hb 2013, nr 238 till Ryssland.
$38 000
2014
MANIFEST DESTINY
US
S
CREDIT WINNER
Såldes på LEX 2015, nr 222.
GASTINE f,2003
Född
Häst
Na
Kön
Auto
Inkört
Val
Far
Notiser
Auk-
pris
MARADRIA f,2006
Född
Häst
Na
Kön
Auto
Inkört
Val
Far
Notiser
Auk-
pris

2009

PAFICFIC COAST

IT

S

14,5

22 463

USD

GOETMALS WOOD

2010

REMINGTON

IT

H

ANDOVER HALL

2012

TANITA

DE

S

KADABRA

2014

MAYENNE

DE

S

DONATO HANOVER

1 avk i Sverige, född 2018 (Lucky Flevo e Reday Cash)
UNIVERSAL SUCCESS f,2006 (Hon såldes på Lexington Mixed Sale 2018 för $25,000 till PER-OLOF PERSSON, Commack, NY, USA)
Född
Häst
Na
Kön
Auto
Inkört
Val
Far
Notiser
Auk-
pris
2014
WORLD OF LINDY
US
H
14 674
USD
CRAZED
This is her first foal. Såldes på LEX 2015, nr 531.
2015
UNNAMED
US
S
EXPLOSIVE MATTER
Died
2016
TRACE OF LINDY
US
H
EXPLOSIVE MATTER
Såldes på LEX 2017, nr 436.
2017
LINDY FOR THE WIN
US
H
ROYALTY FOR LIFE
2018
UNNAMED
US
H
BAR HOPPING
2019
US
FATHER PATRICK
This is from Meadowlands Racetrack
Continentalvictory

black filly by Valley Victory - Intercontinental - Chiola Hanover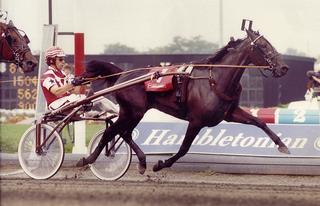 ---
OWNER: Continentalvictory Stable [Deena and Gene Frost, Harvey Gold, Hi-Stix Inc. [Ken Orr and David Hauck] and Allister Stables Inc [David Offenberg]]
BREEDER: Brittany Farms [George Segal], Versailles, KY
SALE: $100,000 -1994 Kentucky Standardbred Sale Private Transfers March 31, 2023 & January 3, 2023
TRAINER: Ron Gurfein
DRIVER: Mike Lachance
| | | | | | | |
| --- | --- | --- | --- | --- | --- | --- |
| YEAR | STARTS | 1ST | 2ND | 3RD | EARNINGS | MARK |
| 1995 | 17 | 10 | 3 | 0 | $432,810 | 1:55.3 [GSP] |
| 1996 | 5 | 4 | 0 | 1 | $283,815 | 1:54.2 [M] |
| LIFETIME | 22 | 14 | 3 | 1 | $666,485 | 1:54.2 [M] |
---
Stakes Summary
Date
Stakes
Track
Finish
7/26/96
$334,500 Budweiser Beacon Course Final
M
3rd
7/19/96
$20,000 Budweiser Beacon Course Prep
M
1st
7/6/96
$334,700 Yonkers Trot
YR
1st
6/4/96
$100,000 New Jersey Sire Stake
M
1st
11/24/95
$311,300 Goldsmith Maid
GSP
2nd
10/20/95
$300,000 Cadillac Breeders Crown Final
GSP
1st
10/2/95
$53,6000 International Stallion Stake [div]
Lex
1st
9/12/95
$38,000 American-National [div]
Spk
1st
9/1/95
$20,000 Hayes Memorial [1st heat]
DuQ
1st
7/18/95
$114,550 New Jersey Sires Stakes Final
M
2nd
---
Continentalvictory's undefeated 1996 season ended in the July 27 Budweiser Beacon Course Final. "Mike (Lachance) said she weakened at the end of the mile, but he used her hard so it doesn't surprise me," said trainer Ron Gurfein. "She trotted a world's record, got used hard leaving and couldn't get out. The other filly (second-place finisher Act Of Grace) got a jump on her. I always thought (Mr Vic) was better and now I'm not so sure," Gurfein said. "When Lachance picked the filly, he didn't tell me why, but he must think she's the better horse." She sat a pocket trip but faded to a third-place finish in deep stretch, three-quarters of a length behind winner Lindy Lane.

---

She defeated Lindy Lane in the Budweiser Beacon Course Prep on July 19, wiring the field in 1:56.1. "If she didn't win with the 58.4 middle half, I'd be very disappointed," said driver Mike Lachance after that performance. "She is awesome; she's as good as she can be. She likes the front, but she can do anything you want with her. She's fine coming off the pace. This year she's much more relaxed, and she's happy. I'm just hoping she'll be happy for the next couple of weeks."

---

Her record versus the boys in three starts is now two wins and one third place finish.

---

Continentalvictory opened her three-year-old campaign with a personal best 1:54.2 score in a leg of the New Jersey Sire Stakes. She was the wire-to-wire winner in the $100,000 New Jersey Sire Stakes Final on June 4, at the Meadowlands, defeating Act Of Grace by a length and a quarter in 1:54.3. She also led every step of the mile in the Yonkers Trot, stopping Kramer Boy by two lengths in of 1:56.2. Continentalvictory's final time in the Yonkers Trot was only two ticks off the stakes record, set last year by the filly CR Kay Suzie.

---

Voted the Two-Year-Old Trotting Filly of 1995 by the USTA/USHWA, Continentalvictory had posted a nine-race winning streak from mid-August thru mid-November of 1995. She equaled the national season's record of 1:55.3 in the Cadillac Breeders Crown Final.

---

"We're a very compatible group of owners," says Deena Frost, of Continentalvictory Stable. "It's really worked out well for us."

---

Frost is a retired nurse and her husband Gene is a retired CEO of his own contract packaging business. The Frosts, who retired to Highland Beach, Florida, own more than a dozen horses. They bought their first horse in 1970, raced primarily in New England and have campaigned such good ones as Love Not War and Bold Herbert.

---

"We saw her (Continentalvictory) prior to the sale in Kentucky with our trainer (Ron Gurfein)," Frost said. "My husband and Ron were really the ones that chose her. There was another filly that I was partial to, but my husband really was partial to Continentalvictory. We bid on her and got her. She's our best right now, but we've also got Mr Vic. It's difficult to say, but right now she's proven herself, and we're hoping for better things to come out of her. I have mixed emotions [about the Hambletonian]. I own both of them - it's difficult to say. I show partiality to her sometimes and sometimes to Mr Vic. I hope she'll come through for us. She has every other time, and I hope she'll come through for us again."

---

Harvey Gold owns Rainbows End Farm in Marlborough, Connecticut. Gold is retired from the children's clothing business. An avid sports fan, Gold used to sponsor several boxers, but prefers raising and racing equine athletes. He is also an amateur driver.

---

Hi-Stix is Ken Orr of Saddle River, New Jersey and David Hauck of Conley, Georgia. Allister Stables is David Offenberg of Marlboro, New Jersey, who owns Allister Business Systems. Offenberg is a co-owner of the world's fastest racing trotter, Beat The Wheel. "With two-year-old trotters there is always nerves," Offenberg said of Continentalvictory last year. "But she comes from the greatest trotting sire in the world and is from a family of trotting champions. You expect her to be good."

---

Jerry Silva owns an institutional pharmacy business in Oceanside, New York, and privately bought shares in Continentalvictory and Mr Vic last August. Silva, who started in the harness racing business in 1963, had been out of racing from 1976 through 1991.

---

"Four of us got together and bought Imperfection for $100,000 and he went on to be one of the best," Silva said. "We got Beat The Wheel at the end of her three-year old season for $90,000. We only go in for trotters, because it's Ron Gurfein, and it's the most fun." Silva also has a Merrie Annabelle hopeful in Vernon Blue Chip.

---

Trainer Ron Gurfein is the son of a diamond importer, who grew up around horses and always felt they were his true calling, albeit a risky proposition. In 1965, at age 25, he decided to take up training harness horses, and in his words, "the business has been very good to us."

---

He became one of four trainers to win two Breeders Crown titles in a single night when his trainees Imperfection and Baltic Striker took their respective 1992 Crown trotting divisions. His greatest career achievement came in 1994, when he made good on a bold prediction to win the Cadillac Hambletonian that year. He made the prediction in 1993, when eventual Hambo winner Victory Dream still was an unraced maiden. Gurfein also achieved fame in 1994 with the four-year-old mare Beat The Wheel, who trounced defending Trotter of the Year Pine Chip with a shocking 1:51.4 mile to become the fastest trotting racehorse of all time.

---

Gurfein maintains a stable of 25 horses, all trotters -- no pacers. "I think trotters are aesthetically more beautiful," Gurfein once said. "It's a far more level playing field, a lot more sophisticated, and there are no Monday morning scientists."

---

He compared winning the $1.2 million Hambletonian to "getting a World Series ring or winning the Stanley Cup. It's the height of the sport," he said. "And the money's nice, too."

---

A graduate of Bronx Science High in New York, he dropped out of Emory University and owned Paraphernalia clothing store franchises, before falling in love with harness racing. He and his wife, Susan Marie are the parents of two teenagers, Lauren Ashley and Blake Taylor.

---

Driver Mike Lachance, who was inducted into the Harness Hall of Fame this year, was the regular pilot for three of the top Hambo contenders - the filly, Mr Vic and Lindy Lane. Lachance said his association with Gurfein is the main reason he passed up driving last year's divisional champ [Lindy Lane]. "Because of Gurfein, I picked her," he said. "He trains most of the good two and three-year-old trotters I drive now. And, I already won a Hambletonian for him."

---

Lachance said that while Continentalvictory often raced on the front end, she could go either way. "I raced her a couple of times in the hole. She sat in the two hold behind Act Of Grace in her first start this year," he said. "She is more comfortable close to the front, but I'm almost sure she can be taken off the gate and still come back at the end." Lachance has driven Continentalvictory in all 22 of her lifetime starts.
---
Ron Gurfein's Cadillac Hambletonian Record
Year
Horse
Finish
Earnings
1995
Trustworthy
4th-7th
$18,000
1994
Victory Dream
1st-1st
$550,000
1991
MB Felty
1st-2nd
$309,500
---
Victory Dream provided Gurfein and Lachance their first Hambletonian win in 1991. Gurfein who will start Mr Vic as well as Continentalvictory is not the first trainer to start a filly and a colt in the same Hambletonian. The Carl and Rod Allen Stable did it last year with their entries CR Kay Suzie, CR Track Master and Super Wally.