San Pail Defends MLT Title
San Pail, driven by Randy Waples, took no prisoners during a stakes-filled Saturday night at Mohawk Racetrack, wiring a star-studded cast in the $772,000 Maple Leaf Trot.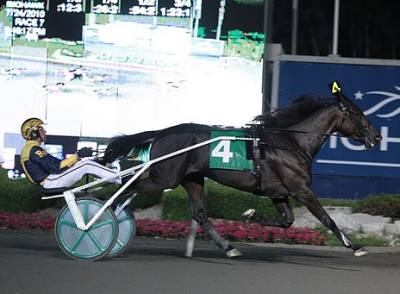 Not only did San Pail become the first horse since the incomparable Mr Muscleman in 2004-05 to win back-to-back editions of the Maple Leaf Trot, but he also set a stakes record of 1:51.3, eclipsing Arch Madness's mark of 1:52 in 2008.
At the finish of one of North America's premier trotting classics, San Pail proved the best by three lengths over Slave Dream (Sylvain Filion), with Reven Damour (Fredrik Larsson) third. However, Slave Dream was disqualified for a lapped on the break at the wire and placed third, with Reven Damour elevated to second.
The six year-old gelded son of San Pellegrino also established the fastest half-mile mark in Mohawk history, a blazing :54.2, after blasting from the four-hole, out-duelling two others for the lead while getting the opening quarter in :26.2.
Despite comfortably winning his elimination last week, San Pail went postward the 3-1 third choice, behind 6-5 favourite Lucky Jim and 2-1 Enough Talk. Lucky Jim made a mild bid around the far turn before finishing fourth, while Enough Talk, tucked in third along the rail for most of the trip, made a break turning for home and wound up 10th and last.
"It always feels good to win this race," said Waples. "It's so tough to get a horse good enough to compete in this race. And then it's so tough to get a good post position, do good in the elimination, then race well in the final. I can't say enough about [trainer] Rod Hughes. He just had the horse unbelievably good. It's great.
"I wanted to control my own destiny. I know some people don't think he's quite as good as some of the other horses. But I just wanted to take my shot and go from there, because I do believe he is one of the best ones. He's always a better horse when he gets to the front because he relaxes. It just couldn't have worked out better."
Added trainer and co-owner Rodney Hughes of Dunsford, ON, "I'm so happy with that horse tonight. He's just awesome. He's what you dream of. To do this twice is just unbelievable. I knew we had lots of support here tonight. I was just hoping we had the horse to back it up.
"I thought he'd be better [than last week]. He put in a really nice week for us at home. We worked a little harder on him and tried to have him that much better and he was. This is amazing."
San Pail picked up a pot of $386,000 for his 30th lifetime win, pushing his career bankroll to over $1.6 million for Hughes and partner Glenn Van Camp of Port Perry, ON.
San Pail paid $8, $4.50 and $4, combining with Reven Damour ($6.20, $4.10) for a $56.60 (4-6) exactor. A 4-6-5 (Slave Dream, $9.70 to show) triactor was worth $863.90, while a $1 Superfecta [4-6-5-3 (Lucky Jim)] returned $1,582.50.