By Earnings - By Wins - By Record

3-year-old Trotters by Earnings - 2010
| Horse Name | Age | Sex | Gait | Sts | 1st | 2nd | 3rd | Earnings | Record | Size |
| --- | --- | --- | --- | --- | --- | --- | --- | --- | --- | --- |
| LUCKY CHUCKY | 3 | H | T | 11 | 5 | 3 | 1 | 1,432,324 | 1:50.4 | M |
| MUSCLE MASSIVE | 3 | H | T | 13 | 5 | 3 | 2 | 1,213,611 | 1:51.0 | M |
| WISHING STONE | 3 | H | T | 15 | 6 | 3 | 2 | 948,298 | 1:51.2 | M |
| BREAK THE BANK K | 3 | H | T | 20 | 5 | 2 | 5 | 774,455 | 1:51.3 | M |
| ULTIMATE CAMERON | 3 | M | T | 14 | 5 | 2 | 2 | 574,375 | 1:53.3 | S |
| BAR SLIDE | 3 | M | T | 14 | 5 | 2 | 1 | 568,529 | 1:52.4 | M |
| TEXT ME | 3 | H | T | 19 | 9 | 4 | 1 | 539,215 | 1:54.3 | S |
| EMMYLOU WHO | 3 | M | T | 18 | 4 | 8 | 2 | 478,813 | 1:54.4 | S |
| RANDOM DESTINY | 3 | M | T | 17 | 6 | 3 | 2 | 475,784 | 1:54.1 | S |
| IMPRESSIVE KEMP | 3 | M | T | 20 | 8 | 3 | 1 | 453,972 | 1:54.3 | M |
| TEMPLE OF DOOM | 3 | H | T | 14 | 2 | 4 | 2 | 436,896 | 1:52.4 | F |
| MSNAUGHTYBYNATURE | 3 | M | T | 14 | 13 | 0 | 1 | 416,894 | 1:56.0 | S |
| EARL'S GLIDER | 3 | G | T | 19 | 11 | 4 | 0 | 415,478 | 1:56.1 | M |
| COSTA RICA | 3 | M | T | 17 | 6 | 3 | 2 | 410,093 | 1:54.3 | S |
| FLEX THE MUSCLE | 3 | H | T | 22 | 8 | 3 | 0 | 389,056 | 1:54.4 | H |
| BEHINDCLOSEDOORS | 3 | M | T | 15 | 4 | 4 | 2 | 387,594 | 1:53.2 | F |
| ON THE TAB | 3 | H | T | 12 | 1 | 6 | 1 | 381,501 | 1:58.4 | H |
| GLIDE POWER | 3 | M | T | 16 | 5 | 3 | 3 | 376,097 | 1:53.4 | M |
| TAKE MY PICTURE | 3 | G | T | 22 | 3 | 10 | 2 | 372,406 | 1:54.1 | M |
| SPICY WINGS | 3 | M | T | 17 | 5 | 2 | 5 | 367,486 | 1:54.3 | F |
| PILGRIMS CHUCKIE | 3 | H | T | 14 | 5 | 4 | 1 | 358,878 | 1:53.0 | F |
| SPRINGTIME VOLO | 3 | M | T | 13 | 4 | 2 | 3 | 343,743 | 1:53.2 | M |
| CASSIS | 3 | H | T | 15 | 9 | 2 | 1 | 342,418 | 1:52.4 | M |
| HARD LIVIN | 3 | H | T | 19 | 3 | 3 | 3 | 328,890 | 1:55.0 | F |
| SING JESSE SING | 3 | H | T | 13 | 9 | 3 | 0 | 323,232 | 1:53.3 | S |
| BLACKTUXWHITESOCKS | 3 | G | T | 18 | 10 | 1 | 3 | 307,676 | 1:55.1 | F |
| CHRISTIANA HANOVER | 3 | M | T | 18 | 4 | 5 | 4 | 302,340 | 1:53.4 | F |
| MUNIS BLUE CHIP | 3 | M | T | 18 | 8 | 4 | 1 | 285,983 | 1:56.1 | H |
| CROSS OF LORRAINE | 3 | M | T | 14 | 8 | 1 | 1 | 279,040 | 1:52.4 | S |
| POOF SHE'S GONE | 3 | M | T | 14 | 4 | 2 | 3 | 275,137 | 1:53.1 | M |
| BRAMALEA HANOVER | 3 | M | T | 26 | 7 | 4 | 4 | 274,362 | 1:56.0 | S |
| PILGRIMS TAJ | 3 | H | T | 13 | 3 | 0 | 1 | 259,264 | 1:53.3 | M |
| WHATA WINNER | 3 | G | T | 20 | 8 | 5 | 1 | 247,890 | 1:55.0 | S |
| TUESDAYS WITH MOM | 3 | M | T | 10 | 7 | 3 | 0 | 246,186 | 1:55.1 | F |
| WILSONATOR | 3 | M | T | 17 | 5 | 2 | 4 | 238,602 | 1:56.0 | S |
| SHAQ IS BACK | 3 | H | T | 19 | 4 | 7 | 3 | 237,568 | Q 1:55.3 | M |
| FROSTY FLIRT | 3 | M | T | 15 | 10 | 2 | 1 | 226,177 | 1:55.1 | S |
| DAKOTA'S FINAL | 3 | R | T | 16 | 5 | 5 | 4 | 225,913 | 1:57.1 | M |
| STRONG HOPE | 3 | H | T | 20 | 4 | 7 | 3 | 221,711 | 1:55.1 | M |
| ARUBA VACATION | 3 | G | T | 14 | 9 | 2 | 2 | 214,234 | 1:56.1 | F |
| SKYWAY CRUISER | 3 | G | T | 29 | 11 | 3 | 2 | 210,470 | 1:56.3 | S |
| WINDSUN GALAXIE | 3 | H | T | 20 | 5 | 3 | 3 | 210,271 | 1:55.1 | F |
| LEXIS NOAH | 3 | G | T | 24 | 7 | 4 | 3 | 207,804 | 1:54.1 | S |
| POWERFUL SPEED | 3 | G | T | 19 | 7 | 3 | 2 | 205,873 | 1:54.0 | M |
| SOUTHWIND SAMURAI | 3 | M | T | 11 | 4 | 2 | 1 | 202,098 | 1:54.4 | S |
| EASY DREAM | 3 | M | T | 12 | 6 | 1 | 2 | 201,262 | 1:55.2 | F |
| HIDDEN MESSAGE | 3 | G | T | 22 | 6 | 2 | 2 | 195,064 | 1:54.2 | S |
| CELEBRITY BLUECHIP | 3 | H | T | 17 | 7 | 3 | 1 | 194,173 | 1:57.2 | H |
| WINDSONG GEANT | 3 | G | T | 21 | 4 | 5 | 2 | 188,172 | 1:55.2 | S |
| FASHION FELINE | 3 | M | T | 11 | 5 | 0 | 0 | 186,687 | 1:53.0 | M |
Updated: 01/10/2022 05:48PM
3-year-old Trotters by Wins - 2010

| Horse Name | Age | Sex | Gait | Sts | 1st | 2nd | 3rd | Earnings | Record | Size |
| --- | --- | --- | --- | --- | --- | --- | --- | --- | --- | --- |
| VICTORY IS COMING | 3 | M | T | 23 | 17 | 4 | 1 | 152,667 | 1:56.0 | F |
| HEZAHUMER | 3 | G | T | 28 | 16 | 6 | 3 | 90,502 | 1:55.2 | F |
| JUSTHERIGHTTOUCH | 3 | G | T | 30 | 14 | 5 | 4 | 37,585 | 1:56.3 | F |
| MSNAUGHTYBYNATURE | 3 | M | T | 14 | 13 | 0 | 1 | 416,894 | 1:56.0 | S |
| CURRENT CHIP | 3 | M | T | 13 | 13 | 0 | 0 | 94,784 | 2:01.2 | H |
| BUCKEYE MAN | 3 | G | T | 25 | 13 | 5 | 1 | 70,296 | 1:56.4 | H |
| VAGRA | 3 | G | T | 18 | 13 | 1 | 1 | 27,100 | 1:59.0 | F |
| BIT O LOOKS | 3 | M | T | 30 | 13 | 4 | 0 | 21,734 | 1:59.1 | H |
| BUTLER BULLDOG | 3 | G | T | 34 | 12 | 4 | 2 | 87,331 | 1:55.3 | S |
| FOX VALLEY FLARE | 3 | G | T | 15 | 12 | 1 | 0 | 32,181 | 1:57.2 | M |
| EARL'S GLIDER | 3 | G | T | 19 | 11 | 4 | 0 | 415,478 | 1:56.1 | M |
| SKYWAY CRUISER | 3 | G | T | 29 | 11 | 3 | 2 | 210,470 | 1:56.3 | S |
| CC DANCER | 3 | M | T | 29 | 11 | 5 | 2 | 49,511 | 1:58.3 | H |
| POUVOIR | 3 | G | T | 15 | 11 | 0 | 1 | 40,678 | 1:57.3 | F |
| BLACKTUXWHITESOCKS | 3 | G | T | 18 | 10 | 1 | 3 | 307,676 | 1:55.1 | F |
| FROSTY FLIRT | 3 | M | T | 15 | 10 | 2 | 1 | 226,177 | 1:55.1 | S |
| GREAT EMANCIPATOR | 3 | G | T | 16 | 10 | 2 | 0 | 103,609 | 1:55.2 | M |
| WILLIN DYLAN | 3 | G | T | 13 | 10 | 1 | 2 | 86,658 | 2:00.3 | H |
| MAREMMA | 3 | M | T | 18 | 10 | 1 | 1 | 71,737 | 1:58.1 | F |
| LUCKY PRICE | 3 | G | T | 27 | 10 | 5 | 3 | 33,100 | 1:59.4 | M |
| CAVIAR AND KISSES | 3 | M | T | 24 | 10 | 3 | 3 | 29,816 | Q 2:00.1 | F |
| FRIED BY FIVE | 3 | M | T | 19 | 10 | 4 | 0 | 24,586 | 2:00.4 | F |
| STORMONT STIRFRY | 3 | G | T | 16 | 10 | 2 | 1 | 21,683 | 1:58.3 | H |
| ZOOM A RAIL | 3 | G | T | 16 | 10 | 1 | 1 | 18,593 | 1:59.0 | H |
| I LOOK DYNAMIC | 3 | M | T | 24 | 10 | 3 | 2 | 18,210 | 2:00.1 | H |
| TEXT ME | 3 | H | T | 19 | 9 | 4 | 1 | 539,215 | 1:54.3 | S |
| CASSIS | 3 | H | T | 15 | 9 | 2 | 1 | 342,418 | 1:52.4 | M |
| SING JESSE SING | 3 | H | T | 13 | 9 | 3 | 0 | 323,232 | 1:53.3 | S |
| ARUBA VACATION | 3 | G | T | 14 | 9 | 2 | 2 | 214,234 | 1:56.1 | F |
| BOOGIE WOOGIE | 3 | G | T | 19 | 9 | 3 | 0 | 130,351 | 1:55.2 | S |
| SYENITE | 3 | G | T | 20 | 9 | 2 | 2 | 113,824 | 1:54.0 | F |
| TOUGH CHALLENGER | 3 | H | T | 17 | 9 | 3 | 1 | 104,580 | 1:54.4 | M |
| LEXIS D J | 3 | G | T | 20 | 9 | 1 | 1 | 96,730 | 1:55.4 | S |
| DEFEND THE ROCK | 3 | G | T | 18 | 9 | 4 | 4 | 91,412 | 1:56.3 | M |
| SOUTHWIND NITRO | 3 | H | T | 15 | 9 | 0 | 2 | 62,117 | 1:56.0 | F |
| JESSE FECT | 3 | G | T | 25 | 9 | 5 | 3 | 54,044 | 1:56.3 | F |
| DJ FRENCH BABY | 3 | M | T | 19 | 9 | 5 | 2 | 41,757 | 2:00.3 | F |
| MEADOW SAPPHIRE | 3 | M | T | 12 | 9 | 1 | 2 | 34,615 | 1:59.3 | F |
| SCARLET PATTI | 3 | M | T | 14 | 9 | 4 | 1 | 26,715 | 2:01.3 | H |
| SUNNY VICTORY | 3 | M | T | 25 | 9 | 5 | 3 | 24,729 | 1:58.3 | F |
| JODEVIN TIME | 3 | G | T | 21 | 9 | 3 | 1 | 24,084 | 2:02.2 | M |
| SANDRA DEA GO FAST | 3 | M | T | 18 | 9 | 3 | 3 | 23,689 | 2:04.3 | H |
| ROSE RUN LEAH | 3 | M | T | 20 | 9 | 2 | 1 | 17,628 | 1:59.3 | F |
| IMPRESSIVE KEMP | 3 | M | T | 20 | 8 | 3 | 1 | 453,972 | 1:54.3 | M |
| FLEX THE MUSCLE | 3 | H | T | 22 | 8 | 3 | 0 | 389,056 | 1:54.4 | H |
| MUNIS BLUE CHIP | 3 | M | T | 18 | 8 | 4 | 1 | 285,983 | 1:56.1 | H |
| CROSS OF LORRAINE | 3 | M | T | 14 | 8 | 1 | 1 | 279,040 | 1:52.4 | S |
| WHATA WINNER | 3 | G | T | 20 | 8 | 5 | 1 | 247,890 | 1:55.0 | S |
| WATKINS | 3 | G | T | 16 | 8 | 3 | 2 | 143,478 | 1:56.2 | F |
| MEGHAN'S HALFMOON | 3 | M | T | 25 | 8 | 0 | 3 | 52,071 | 1:57.3 | F |
| DJ SPEEDY FOX | 3 | M | T | 20 | 8 | 6 | 3 | 46,060 | 2:00.1 | F |
| AMERICAN HOLIDAY | 3 | M | T | 27 | 8 | 3 | 3 | 43,783 | 2:00.4 | H |
| HAT | 3 | M | T | 17 | 8 | 3 | 2 | 41,745 | 1:56.1 | F |
| REES'S RACER | 3 | G | T | 25 | 8 | 1 | 2 | 38,223 | 1:56.1 | F |
| CAVIAR'S DANCER | 3 | M | T | 23 | 8 | 5 | 1 | 25,039 | 2:00.3 | H |
| HUSTLINDLUX | 3 | M | T | 25 | 8 | 5 | 3 | 19,570 | 1:57.3 | H |
| B J ELDORADO | 3 | G | T | 13 | 8 | 1 | 1 | 19,304 | 2:03.0 | H |
| JAZZ SPUR | 3 | G | T | 19 | 8 | 2 | 3 | 18,245 | 2:00.1 | H |
| MR SAM | 3 | H | T | 26 | 8 | 3 | 3 | 13,402 | 1:58.3 | H |
Updated: 01/01/2023 06:27AM
| Horse Name | Age | Sex | Gait | Sts | 1st | 2nd | 3rd | Earnings | Record | Size |
| --- | --- | --- | --- | --- | --- | --- | --- | --- | --- | --- |
| LUCKY CHUCKY | 3 | H | T | 11 | 5 | 3 | 1 | 1,432,324 | 1:50.4 | m |
| MUSCLE MASSIVE | 3 | H | T | 13 | 5 | 3 | 2 | 1,213,611 | 1:51.0 | m |
| WISHING STONE | 3 | H | T | 15 | 6 | 3 | 2 | 948,298 | 1:51.2 | m |
| BREAK THE BANK K | 3 | H | T | 20 | 5 | 2 | 5 | 774,455 | 1:51.3 | m |
| TEMPLE OF DOOM | 3 | H | T | 14 | 2 | 4 | 2 | 436,896 | 1:52.4 | f |
| ACTION-BROADWAY | 3 | M | T | 17 | 6 | 2 | 1 | 165,850 | 1:52.4 | s |
| CROSS OF LORRAINE | 3 | M | T | 14 | 8 | 1 | 1 | 279,040 | 1:52.4 | s |
| BAR SLIDE | 3 | M | T | 14 | 5 | 2 | 1 | 568,529 | 1:52.4 | m |
| CASSIS | 3 | H | T | 15 | 9 | 2 | 1 | 342,418 | 1:52.4 | m |
| HOLIDAY ROAD | 3 | H | T | 4 | 2 | 0 | 1 | 113,850 | 1:52.4 | m |
| PILGRIMS CHUCKIE | 3 | H | T | 14 | 5 | 4 | 1 | 358,878 | 1:53.0 | f |
| CANTAB IT ALL | 3 | M | T | 17 | 1 | 3 | 1 | 92,805 | 1:53.0 | m |
| FASHION FELINE | 3 | M | T | 11 | 5 | 0 | 0 | 186,687 | 1:53.0 | m |
| HE'S A DEMON | 3 | H | T | 17 | 4 | 2 | 3 | 167,017 | 1:53.1 | m |
| POOF SHE'S GONE | 3 | M | T | 14 | 4 | 2 | 3 | 275,137 | 1:53.1 | m |
| BEHINDCLOSEDOORS | 3 | M | T | 15 | 4 | 4 | 2 | 387,594 | 1:53.2 | f |
| SPRINGTIME VOLO | 3 | M | T | 13 | 4 | 2 | 3 | 343,743 | 1:53.2 | m |
| KEEPIN THE CHIPS | 3 | G | T | 22 | 7 | 7 | 2 | 84,857 | 1:53.3 | f |
| SING JESSE SING | 3 | H | T | 13 | 9 | 3 | 0 | 323,232 | 1:53.3 | s |
| ULTIMATE CAMERON | 3 | M | T | 14 | 5 | 2 | 2 | 574,375 | 1:53.3 | s |
| PILGRIMS TAJ | 3 | H | T | 13 | 3 | 0 | 1 | 259,264 | 1:53.3 | m |
| PRETTY BOY LINDY | 3 | H | T | 13 | 5 | 1 | 1 | 128,774 | 1:53.3 | m |
| CHRISTIANA HANOVER | 3 | M | T | 18 | 4 | 5 | 4 | 302,340 | 1:53.4 | f |
| PICTURES OF MILLIE | 3 | M | T | 14 | 7 | 2 | 1 | 52,996 | 1:53.4 | f |
| BOZTHEMAN | 3 | H | T | 10 | 2 | 0 | 1 | 45,443 | 1:53.4 | m |
| GLIDE POWER | 3 | M | T | 16 | 5 | 3 | 3 | 376,097 | 1:53.4 | m |
| SYENITE | 3 | G | T | 20 | 9 | 2 | 2 | 113,824 | 1:54.0 | f |
| IL VILLAGGIO | 3 | H | T | 6 | 1 | 1 | 0 | 46,814 | 1:54.0 | s |
| TAKEACHANCEWITHME | 3 | H | T | 11 | 3 | 4 | 2 | 37,363 | 1:54.0 | s |
| POWERFUL SPEED | 3 | G | T | 19 | 7 | 3 | 2 | 205,873 | 1:54.0 | m |
| ROCK HOLLYWOOD | 3 | G | T | 10 | 3 | 2 | 1 | 92,225 | 1:54.0 | m |
| ARRIBA AMIGO | 3 | G | T | 17 | 3 | 2 | 3 | 151,219 | 1:54.1 | f |
| HIGHLAND IMAGE | 3 | M | T | 6 | 1 | 1 | 1 | 17,823 | 1:54.1 | s |
| LEXIS NOAH | 3 | G | T | 24 | 7 | 4 | 3 | 207,804 | 1:54.1 | s |
| RANDOM DESTINY | 3 | M | T | 17 | 6 | 3 | 2 | 475,784 | 1:54.1 | s |
| MYSTERY PHOTO | 3 | H | T | 14 | 3 | 3 | 3 | 164,801 | 1:54.1 | m |
| TAKE MY PICTURE | 3 | G | T | 22 | 3 | 10 | 2 | 372,406 | 1:54.1 | m |
| TAMPICO | 3 | G | T | 8 | 1 | 0 | 1 | 9,530 | 1:54.1 | m |
| BAXIMUM | 3 | H | T | 17 | 4 | 1 | 3 | 150,812 | 1:54.2 | f |
| KIRTY DREAM | 3 | G | T | 11 | 5 | 2 | 1 | 159,716 | 1:54.2 | f |
| RED LIGHT | 3 | G | T | 11 | 6 | 3 | 0 | 133,851 | 1:54.2 | f |
| HIDDEN MESSAGE | 3 | G | T | 22 | 6 | 2 | 2 | 195,064 | 1:54.2 | s |
| BOINGA | 3 | M | T | 17 | 5 | 2 | 2 | 93,308 | 1:54.2 | m |
| ALLY-GAL RIDGE | 3 | M | T | 22 | 5 | 7 | 3 | 139,342 | 1:54.3 | f |
| COCO LINDY | 3 | H | T | 11 | 1 | 1 | 2 | 87,758 | 1:54.3 | f |
| CROWN LAUREL | 3 | M | T | 13 | 3 | 1 | 0 | 53,884 | 1:54.3 | f |
| MONSIGNOR FLAN | 3 | G | T | 7 | 1 | 1 | 1 | 18,558 | 1:54.3 | f |
| SPICY WINGS | 3 | M | T | 17 | 5 | 2 | 5 | 367,486 | 1:54.3 | f |
| COSTA RICA | 3 | M | T | 17 | 6 | 3 | 2 | 410,093 | 1:54.3 | s |
| DONTGETINHISWAY | 3 | G | T | 11 | 2 | 3 | 3 | 137,048 | 1:54.3 | s |
| TEXT ME | 3 | H | T | 19 | 9 | 4 | 1 | 539,215 | 1:54.3 | s |
| WHIT KEN WIN | 3 | G | T | 15 | 2 | 3 | 3 | 77,816 | 1:54.3 | s |
| GOLD WALKER | 3 | H | T | 11 | 2 | 3 | 1 | 23,150 | 1:54.3 | m |
| IMPRESSIVE KEMP | 3 | M | T | 20 | 8 | 3 | 1 | 453,972 | 1:54.3 | m |
| MUSCATINE | 3 | G | T | 25 | 7 | 1 | 7 | 94,274 | 1:54.3 | m |
| RAYSOFGRACE DE VIE | 3 | M | T | 12 | 3 | 1 | 2 | 26,350 | Q 1:54.3 | m |
Updated: 01/01/2023 06:28AM
BRAMALEA HANOVER, GO GO RED MARTY, R SAM, PLAN OF ACTION, LITTLE RIVER DANCE, HARD LIVIN, ON THE TAB, SENOR GLIDE, SHAQ IS BACK, TOUGH CHALLENGER, HARD LIVIN, SENOR GLIDE, STIMULUS, GLIDE POWER, SPRINGTIME VOLO, CANT LOSE, KIRTY DREAM, SOUTHWIND SAMURAI, TEXT ME, STRONG HOPE, MSNAUGHTYBYNATURE, I'VE GOT IT ALL - TEMPLE OF DOOM - BARHAM HANOVER - PRIORITY PHOTO - BAXIMUM - ACTION BROADWAY - ULTIMATE CAMERON - MYSTERY PHOTO - PILGRIMS CHUCKIE - RED LIGHT -

Andra Nord-
Amerikanska kullar
Wishing Stone captures Kentucky Futurity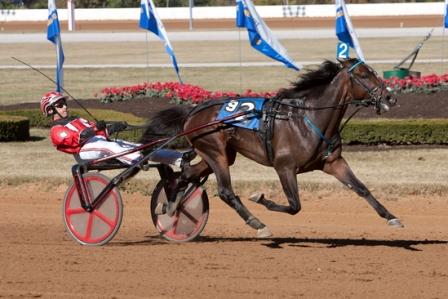 Cowboyland Aalborg's Wishing Stone was a straight heat winner in the $501,000 Kentucky Futurity on Saturday (Oct. 16) at The Red Mile. The winner was bred by Brittany Farms and Daisy Acres and closed in on the million dollar mark in career earnings with his share of the purse.
Wishing Stone bäst i Matron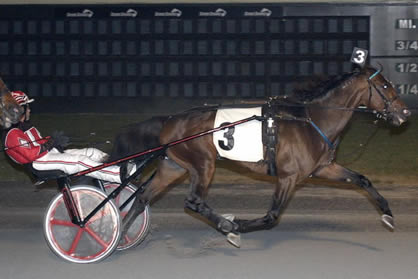 Wishing Stone, who was sent off as the 1-9 favourite, chased a hot pace before cruising home to a comfortable score for driver George Brennan and trainer Dewayne Minor.
Härlig avslutning för Costa Rica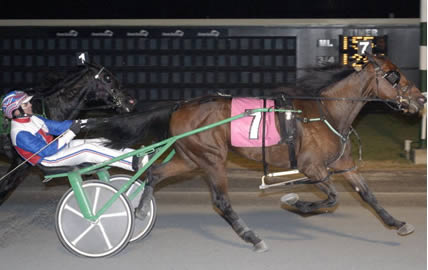 Costa Rica rallied into a slowing pace and picked up one of her richest victories of the season for the dynamic duo of driver Ron Pierce and trainer Jimmy Takter. Pierce mapped out a ground-saving trip for the daughter of Muscles Yankee-Examination, and once she found room she had no problem getting the job done.
Break The Bank K sets world record in Crown triumph/a>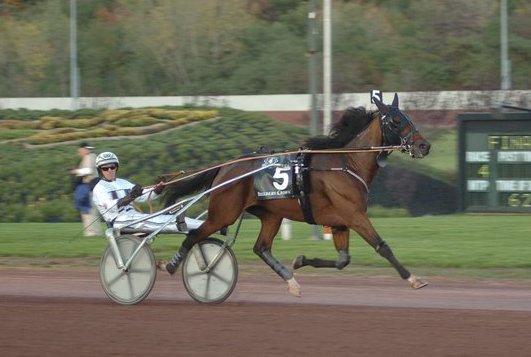 Break The Bank K was the beneficiary of a speed duel at the half-mile mark and was able to trot off to win the $500,000 Breeders Crown for 3-year-old trotting colts on Saturday (Oct. 9) at Mohegan Sun at Pocono Downs by 1-3/4 lengths in a time of 1:52.2.
Impressive Kemp is impressive in Crown filly trot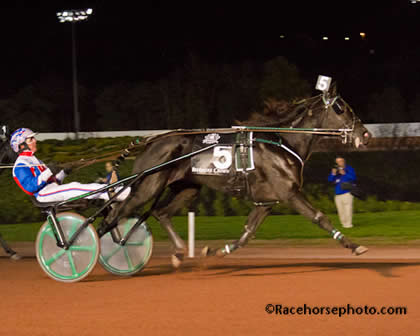 Impressive Kemp swept by the field in the final strides to win the $500,000 Breeders Crown for 3-year-old trotting fillies on Saturday (Oct. 9) at Mohegan Sun at Pocono Downs.
Lucky Chucky Captures Canadian Trotting Classic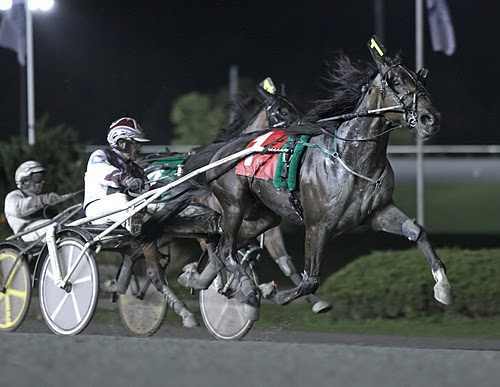 After finishing second to Muscle Massive in the Hambletonian earlier this year, Lucky Chucky got his rematch and came out on top this time around winning the $1 million Canadian Trotting Classic for three-year-old trotting colts in a stakes and track record time during an action-packed Saturday night program at Mohawk Racetrack.
Goodtimes' For Sing Jesse Sing At Mohawk
Sing Jesse Sing survived a first over journey in rein to Jody Jamieson to capture the $387,000 Goodtimes Trot for three-year-olds on Saturday at Mohawk Racetrack
Jan Johnson dubblade i Njss
Finalen i New Jersey Sire Stakes ($200.000) för treåriga ston i natt på Meadowlands blev en ren uppvisning av två Jan Johnson-ston. Glide Power vann före Springtime Volo, vilket inbringade totalt 150.000 dollar.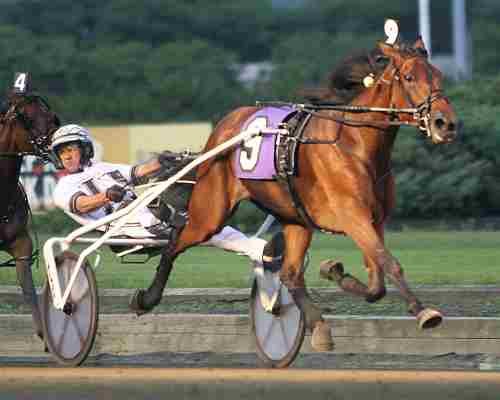 Takters dyring vann NJSS...

Muscle Massive var den dyraste 1,5-åringen i USA 2008. Han kostade 425.000 dollar i Harrisburg och i natt kom belöningen då han segrade i finalen i New Jersey Sire Stakes ($200.000) för treåriga hingstar och valacker på Meadowlands för Ron Pierce på 1.10,9/1.609 meter.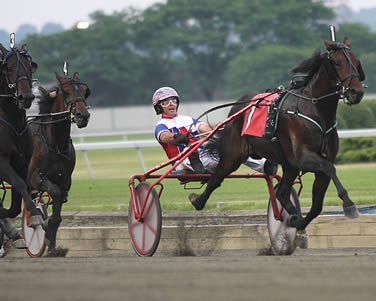 Celias Counsel To Bramalea Hanover
Bramalea Hanover completed a sweep of the Celias Counsel Trotting Series with a 1:56 tour de force in the $60,000 final on Monday evening for driver Steve Condren.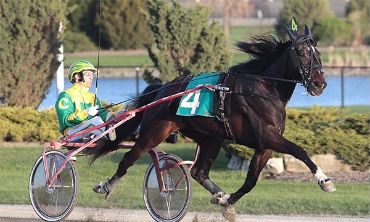 The daughter of Windsongs Legacy-Bramasole got away third in the early going but as soon as things settled up front, she blasted to command just past the first quarter of :27.4. From there, she cruised through splits of :58 and 1:28 before turning on the jets with a :28-second final frame to score by five lengths.
Lorenzo Dream Dazzles In Tie Silk
Lorenzo Dream played the role of giant killer in Thursday's $60,000 Tie Silk Trotting Series final at Woodbine Racetrack when he upended the heavily favoured Go Go Red Marty in 1:55.4.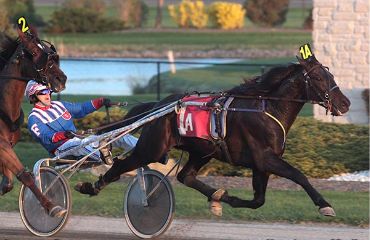 Sylvain Filion guided the three-year-old son of Taurus Dream-Langala Dream from post two in the field of nine. They got away third in the opening quarter of :28.2 before moving to the outside in the second panel and surging towards the front.

En av fjol årets (2009) bästa 2-åringar Il Villaggio kommer inte att starta som 3-åring 2010 på grund av skada.