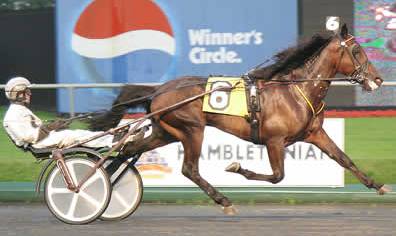 Seelster Farms announced today that it has acquired an interest in Holiday Road 2, 1:54; 3, 1:52.4 ($426,200), who will stand at its Lucan, Ont. farm starting with the 2011 breeding season.
A $115,000 yearling purchase, Holiday Road is the full brother to former Ontario sire and Breeders Crown winner Ken Warkentin 2, 1:55.3; 3, 1:52.3 ($1,066,946). Holiday Road is a son of the great Yankee Glide and the prolific Tagliabue mare Jambo
At age two, Holiday Road was victorious in his first lifetime start, as he won a New Jersey Sire Stake event in 1:57. He followed that victory with a 1:56.3 win in his elimination of the Peter Haughton Memorial. In the $523,600 final of the Peter Haughton, Holiday Road trotted to an impressive victory in a stakes record time of 1:54, one full second faster than the previous stakes record held by Muscle Hill and Donato Hanover.
At age three, Holiday Road captured the Dickerson Cup in a life's best of 1:52.4, as well as a division of the Stanley Dancer in 1:54. He also finished third by just three-quarters of a length in his elimination for the Hambletonian.
He retires with a record of 5-0-2 in 10 starts and earnings of $426,200.
Holiday Road will stand for an introductory fee of $4,500. A limited number of shares are available.
For further information, contact Ann Straatman at Seelster Farms at 519-227-4294.